The 'Preacher' Episode 2 Teaser Sees Jesse Baptize Tulip
Things continue to get weird on AMC's newest original series.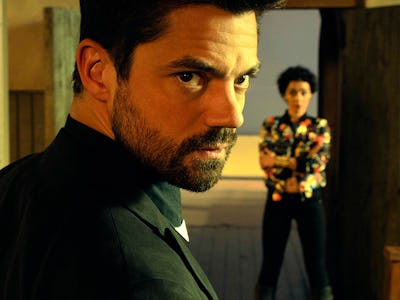 Facebook / PreacherAMC
Preacher debuted to some fairly great reviews on Sunday, which is a surprise, considering it's a batshit TV adaptation of a bloody 1990s cult-classic comic by normal funnymen Seth Rogen and Adam Goldberg. But this is what we get in a post-Walking Dead world on AMC, and its just getting started. The network just posted this sneak-peek of the second episode, and things look like they'll pick right back up from where they left off in the premiere.
Last we saw the preacher (played by Dominic Cooper), he was possessed by an unexplained and possibly biblical force that kept making people explode all over the world — including a fellow preacher in Africa, a satanist in Russia, and Tom Cruise at a Scientology conference — but his newfound power gave him purpose to right the wrongs of the people in the dusty Texas town of Annville.
"I'm gonna do what all good preachers have done since the serpent and man's fall: pray for the sinner, offer peace to the restless, avenge the innocent, cool the wrathful, welcome those who are lost," he told them at the end of the first episode, "and last but not least, speak forth the word of God."
It looks like in episode two that all starts with a baptizing the citizens in the town, including Emily (Lucy Griffiths), the organist who has a little thing for the preacher; Arseface, the teenage suicide survivor whom the preacher helps out; and Tulip (Ruth Negga), the preacher's ex and the outlaw who finds herself in town after running from some unknown bad dudes. The preacher and Tulip have some crazy chemistry here, with actress Ruth Negga emerging as the early standout of the show. It's no surprise that these two are a couple in real life.
But speaking of bad dudes, the two cowboy-looking guys that descended on the town at the end of the premiere have obviously tracked the weird biblical power as it leapt from body to body across the globe to Texas, and have come to figure out whom it's possessed now.
"It doesn't make sense one of them says. Preacher doesn't make much sense at this point either but it's fiendishly good and we'll keep tuning in to find out if it actually ends up making any sense.
Preacher airs at 10 p.m. Eastern on Sundays on AMC.