4 Ways Google Android's "Instant Apps" Completely Change the Mobile Web
Instant Apps was one of the most exciting things to come out of Google I/O.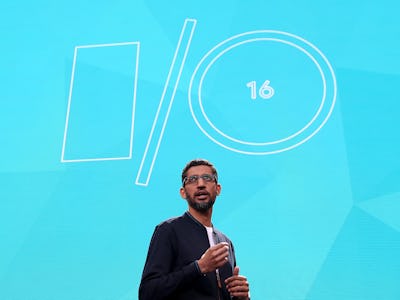 Justin Sullivan/Getty Images
The biggest announcement from the Google I/O keynote address Wednesday wasn't its Amazon Echo competitor, Google Home; its new messaging app, Allo; or its new VR headset and remote control design. It was something called Instant Apps.
It's too early to tell, but Instant Apps have the potential to really revolutionize how we think about the internet, apps, online ads, and search.
So what does it do? Instant Apps tech allows users to open an app they have not installed on their phone just by tapping a link messaged to them or found within search results.
"With the web you can just click a link and land on a web page, that's one click and a few seconds," Ellie Powers, group product manager on the Android team, explained during the keynote. "What if you could run any app with one tap? That's what we're working on."
Powers explained that this is technically a deep link to the Android activity written specifically for the app. The operating system knows this and downloads just the specific code to display that page, not the whole app.
If users like the experience, they can also download the app easily and directly from that page. Oh, and this feature will work on every versions of Android going back to 2012's Jelly Bean.
That has big implications for Google, large businesses, small business, and everyday users. Here are four reasons why.
1. It saves storage space
Maybe you like BuzzFeed's Tasty video content — a service that takes viewers through step-by-step instruction on how to make easy recipes — but you don't have space to download the Buzzfeed Video app or simply just don't consume enough Buzzfeed content to justify the download. With Instant Apps, all you do is click on a link to a piece of BuzzFeed content, and Google, on the fly, fetches and opens just the piece of the BuzzFeed app needed to access the content behind the link. When you're done viewing your Tasty video, you simply back out of the Instant App and it's gone.
With more and more apps coming out on the daily, and some phone makers refusing to raise their base storage models above a measly 16 GB of storage, this could really improve user interaction with content online and increase the usage of apps.
2. A solution to save Google Search
Google knows the number of people using its search engine is declining and that apps with often superior designs and interfaces are rising.
By putting apps one click from search engine results, Google takes out the painful part out of the app revolution (the downloading) and keeps users coming to Search — where all the ad revenue is made.
Google makes a lot of its money from ads in Search. This ad revenue helps keep the lights on at Google and, more than that, allows the company to blow gobs of money on "moonshot" products such as autonomous cars, internet delivering weather balloons, and smart cities.
In order for that steady stream of revenue to keep coming in, Google needs people and eyes on search. Instant Apps should be a boon to that mission.
3. A standard for mobile ads
Google has a very bad mobile ad problem and it's probably the main reason consumers are turning away from mobile search. There's an overabundance of bad pop-up ads that slow down and ruin the experience on search. Instant Apps could be a way to normalize things and make for a better standard for mobile ads.
Based on early demos, Instant Apps (per its name) are running fast and smoothly. That's a far cry from the mobile search experience today.
It's why Facebook made "Instant Articles," because the time it takes to load all the bad mobile ads from websites was stifling Facebook's user experience. Rather than wait 20 seconds for a page to load, viewers would sooner exit the article or the app all together.
Facebook's Instant Articles, from a user perspective, has been a big success, as long as you don't mind being locked into Facebook's ecosystem. The Instant Apps initiative aims to do the same for Google Search as Instant Articles has done for Facebook.
4. The useful — but seldom used — apps are always on-hand
When you get a new phone, there are some tried and true apps that you probably must have and most all people download and use daily: Facebook, Twitter, Instagram, Email. And then there are the apps that are helpful but certainly don't get used every day or even every month. You might even download these apps, use them once, and then immediately delete them.
Those are actually the majority of apps in the Google Play store and Instant Apps gives them a new usefulness.
Google, at its developer conference, used parking meters as an example. Modern parking meters can often let you use an app to pay for them, but why would anyone want that app cluttering their phone?
With Instant Apps, the meter is able to read the NFC chip in a phone when activated with a fingerprint sensor and automatically brings up the pay meter app without downloading the whole thing. Android Pay is integrated right into the app, so paying is just a few steps away. And when the transaction is complete, simply back out of the app and it's off your phone completely.
Likewise, during a live-on-stage demo, Google used the example of buying a camera bag. B&H Photo and Video store has gone to great lengths to design an Android app, but the majority of consumers probably don't buy camera bags everyday. So on that rare occasion when someone wants to buy a camera bag, a search result for a B&H product takes them directly to that specific page of the app instead of a sub-par mobile site. Android pay is directly built into Instant Apps and the transaction can take place in "two taps, not two minutes."
Powers says the service will be rolling out slowly as Google works with a select group of developers to make it available to others down the line. Android users will see the service in use later this year around fall.
"It's a big change in how we think about apps, we want to get it right, and so that's going to take some time for us," Powers said. "We can't wait to see what you will build when your app is just a tap away."