'Agent Carter' Cancelled; Looking Back on the Value of Peggy Carter's Self-Confidence
In a world ravaged by war, superhuman beings, and overconfident male supervisors, Agent Carter stood firmly against all odds.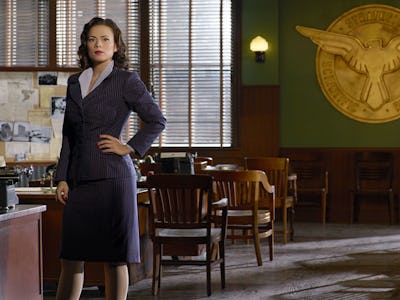 Marvel
The long-expected cancellation of Marvel's Agent Carter was made official today, just hours after fans kicked off a #RenewAgentCarter hashtag campaign in an effort to show their demand for another season. Series star Hayley Atwell won't be leaving the network anytime soon: she's moving on to star in "Conviction," a crime drama that will see her archetype shift from genius secret agent to a case-busting lawyer with a dirty secret. The show's second season received relatively dismal ratings despite a loyal and vocal following, averaging a 1.4 rating in adults 18-49, down sharply from its first season. As DC's Supergirl proceeds to the CW with high hopes, Marvel is now looking elsewhere for shows to fill the Agents of S.H.I.E.L.D. off-season.
The series leaves enough loose ends and lifespan for Peggy Carter's story to live on elsewhere, but for now, Agent Carter's wide-brimmed hat has been hung. Peggy has always been a fan-favorite supporting character, stealing the show in Captain America: The First Avenger before making a case for her own series in the 2013 "Marvel One-Shot" titled Agent Carter.
Agent Carter appeared in the middle of a new era of on screen entertainment, when graphic novels and superheroes began dominating the airwaves. With these superheroes came the common problems found in comics alongside them; challenges in storytelling, and a ridiculous lack of focus on female characters in the lead. Hayley Atwell's steadfast Peggy Carter came to TV alongside Melissa Benoist as a fresh-faced Supergirl, just ahead of Marvel's dark heroine Jessica Jones on Netflix. In the face of the age-old "heroines don't sell" rhetoric, all three shows braved critics on different levels; Jones and Supergirl broke through the fire, and will continue toward a bright horizon under their respective houses. One can hope that the new norm on television will continue to grow in other genres thanks to the foundations of shows like these.
But Agent Carter, despite not making the cut, brought something new to the table: the notion that a woman could be a James Bond, an Indiana Jones, and a Batman. That's a broad statement, but it holds true: in some senses, she's a power fantasy. Peggy may not have had as many ridiculous gadgets (to her credit, her tech supplier was busy making out with co-eds and running Stark Industries), a cave to brood in, or a degree in Archaeology, but she achieved superhuman feats without all of that. She investigated and researched her subjects, figured her own way out of desperate situations, and leaped away from her fair share of cinematic explosions. She overcame naysayers left and right with a falter in her step, save for the incidents close to her heart. Peggy Carter achieved the impossible, romanced Captain America, held friendships and partnerships with an array incredible characters, broke barriers that left her higher-ups speechless, and laid a critically important foundation for the Marvel Cinematic Universe that still holds true today.
Peggy's relationships were a driving factor of the show, and while the second season's love triangle may have slowed down certain episodes, the character's ability to make allies out of enemies harkens back to classic hero tropes in action cinema. In all truth, the show's most interesting relationship wasn't romantic at all: instead, James D'Arcy's Jarvis and Atwell's Carter formed an incredible friendship that spawned some of the show's best comedic and heartwarming moments.
While Agent Carter may be no more, Marvel's take on the classic spy adventure will remain a memorable part of its history, and the ripple within the MCU started by the character herself will remain forever. Now, let's talk about a Peggy Carter novel series …