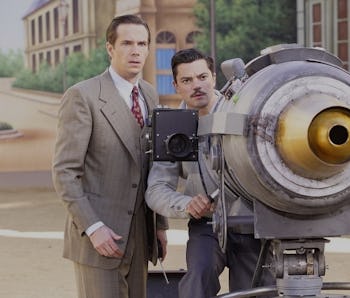 Entertainment
The Season 2 'Agent Carter' Cliffhanger is Whether Season 3 Will Happen
The Marvel Universe's most genuinely likable hero may be getting off the stage.
ABC just ran the season finale of Agent Carter, and the odds are good that it's going to end up being the series finale.
Carter's second season relocated to L.A. and despite a great opening, it squandered a lot of goodwill by dawdling about in storylines that went nowhere. The season finale attempted to bring all of these to a close and, in doing so, proved how far off-track the show had wandered. Though it was nice to see Howard Stark, who stole most of the episode — again — the amount of exposition was considerable. The showrunners were clearly hustling toward resolution, which makes sense given the show's low ratings.
The most egregious bit of plotting in the episode regarded Whitney Frost, the big bad, who walks directly into a trap. Like a moth to a flame, she approaches an open Zero Matter rip in space and time, only to get blasted by a space gun. It's pretty anticlimactic stuff, especially after Season 1 ended with an intricate spy plot.
Jarvis was back to being "Funny Jarvis," which worked and didn't work in equal measure. And there was a flying car. And there was romance. The episode was, in short, everything to everyone, which is not a compliment. Did the twist ending redeem bad decisions? Not really, and it's pretty unclear if it even mattered given the show's questionable future.
Agent Carter's numbers have been consistently low and Haley Atwell has signed on to a new show called Conviction, which seems like a sign her future in the MCU will be cameo-centric. Is that a bad thing? Probably not. The show has been entertaining throughout, and was never really meant to be more than a limited engagement. ABC double-booked episodes all season long, as if they were burning through a property they knew they could no longer support. It made for odd viewing, but it was never a downright bad show, and we leave on a pleasant resolution.
Agent Carter did her job. There's nothing to see here anymore.