Is 'Agent Carter' Ending This Season?
Hayley Atwell signs on for a new TV show. What is 'Agent Carter' without Agent Carter?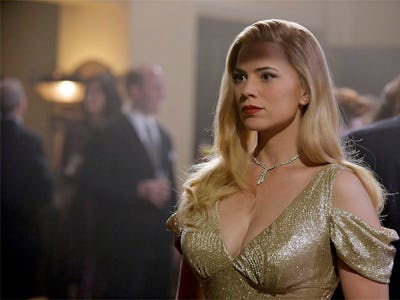 ABC is bumping Hayley Atwell to a new show, so does that mean Agent Carter will end after the second season?
Viewership is painfully down from the first season for Peggy's adventures, which is a big disappointment because this new season is going so much better. Unfortunately, this is the side effect of announcing that your show is probably a One Season & Done type thing, and then expanding it into so much more.
TVLine reports that Hayley Atwell has signed onto a new ABC courtroom show called Conviction. From the report:
"The project will star Atwell as the brilliant-but-rebellious daughter of a Clinton-like political family, who is forced into taking a job as the head of Los Angeles' newly created Conviction Integrity Unit. Along with her team of lawyers, investigators and forensic experts, she has two weeks to examine cases where there's credible suspicion that the wrong person may have been convicted of a crime."
So what does this mean for Season 3 of Agent Carter? Sure, it's a limited series hitting that eight-to-10 episode range, so maybe there's a lot of room for her to make this work. Should Atwell take a new gig, will we have seen the last of Peggy Carter dash, dash, dashing across the MCU? Or is this a good choice for Atwell, to move out of the way for a new limited run Marvel project?
I'm in favor of her quitting everything, so long as she can be the next Doctor Who.