Emergency Jon Snow Hair Update: 'Game of Thrones' Will Never Be The Same 
Big news on the Kit Harington Hair Watch front.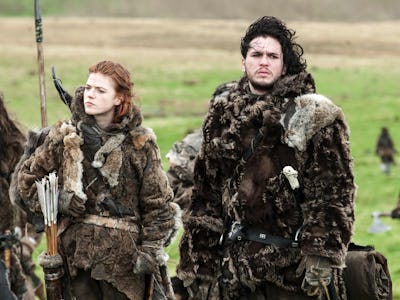 HBO 
The following information contains major life-changing spoilers for Game of Thrones. If you're not ready to hear it yet, it's not to late to turn back and blissfully continue googling Jon Snow theories instead.
Still here? Don't say we didn't warn you. Kit Harington is reportedly changing his famously contracted disheveled mop. As you might recall, we've covered this important issue in depth. But our coverage needs an update: Jon Snow will now look more like a Brooklyn bartender than a pouting bastard. That's right, his ritualistic resurrection haircut wasn't just because Melisandre felt like it. The man bun is about to reign.
It turns out these grainy photos that made waves on the internet a few months back was not just Harington scraping his hair back between takes. That is Jon Snow's new look. New man, new locks.
"We cut it much shorter for this season, and do a different hairstyle this season and put it up in a bun," Harington told Entertainment Weekly.
We understand it will take a while to process this news. We'll give you all the time you need. Hopefully this new hairstyle will go along with his new, more delightfully dickish personality.