Robert Downey Jr. Joins His Pal Underoos for 'Spider-Man: Homecoming'
The red and gold Iron Man will join the red and blue Spider-Man in 2017's 'Homecoming.'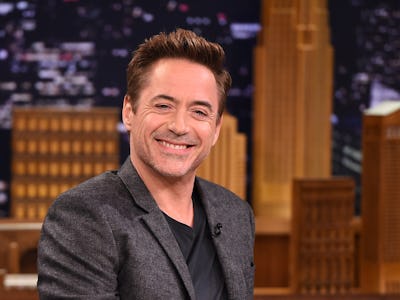 Getty/Theo Wargo, NBC
After his debut in May's Captain America: Civil War, Spider-Man, played by Tom Holland, will swing not-so-solo in his own movie, Spider-Man: Homecoming. The first Spider-Man movie in the Marvel Cinematic Universe, it'll hit theaters on July 7, 2017. Among the first fellow superheroes to join Spidey will be Iron Man and Civil War co-star Robert Downey Jr., who will bring his Marvel mainstay Tony Stark, armored avenger Iron Man, to the party.
According to The Hollywood Reporter, Downey Jr. has agreed to reprise his role in the joint Marvel and Sony co-production, a result of a publicized deal announced back in 2015. Downey Jr. is among the first Avengers to join Homecoming, and more are expected to follow.
In Marvel's Civil War comic, Tony Stark mentors Peter Parker amid the Superhero Registration Act until Peter defects to Captain America's side. In the movie, which is loosely adapting the 2006 book, Stark brings Peter into the battle and more symbolically into the MCU — which spans from The Avengers films to Agents of S.H.I.E.L.D. on ABC to Daredevil, Jessica Jones, and the upcoming Iron Fist on Netflix.
It's also very significant that one of the most recognizable Marvel superheroes, whose 2008 movie started this whole thing, joins Spider-Man in his "first" movie (even though it'll be the sixth film for the web head).
Fanboys have long dreamt about the world of comic books fleshed out in the big screen, and it's more than just watching sound and fury action movies. It's seeing beloved characters come to life and interact. The boyish Peter Parker — Holland is 19, while his Peter is much younger — interacting with the older Marvel heroes is sure to be quite something.
In more news, Deadline is reporting Michael Keaton has left production after rumors indicated he was close, if not already signed on.
Captain America: Civil War releases May 6.