Spider-Man's 2017 Movie Will Feature Other Marvel Cinematic Universe Heroes
Peter Parker won't be alone in the 2017 'Spider-Man' movie.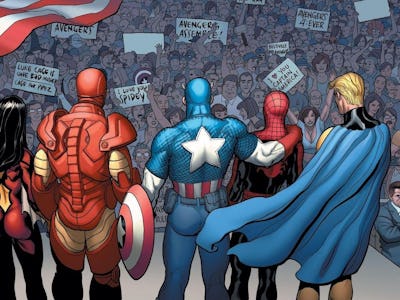 Marvel, Moviepilot
Spider-Man is back in his friendly Marvel neighborhood, and nerdy Peter Parker will swing into the ensemble blockbuster Captain America: Civil War on May 6. But when Spidey has his own feature in 2017 (its rumored title Spider-Man: Homecoming), he won't be alone as the film will have other heroes from the Marvel Cinematic Universe.
In a recent interview, Marvel producer Kevin Feige said Spidey's existence in the MCU means he'll get to play with others beyond Civil War. "He is in the universe now, and the fun of the universe is that characters go back and forth," he told EW.
Feige didn't reveal any specific characters, but one can guess based on the rumored title. If the film is Spider-Man: Homecoming, it may reference the arc from The Amazing Spider-Man when Peter returns from Battleworld (in the 1984 crossover Secret Wars) which has Thor, Captain America, Hawkeye, War Machine, Wasp, and more (though non-MCU) characters right in the first issue (Amazing Spider-Man #252). But you don't have to be that much of a fan to remember how many heroes live in New York. The Netflix heroes — Daredevil, Jessica Jones, Luke Cage, and soon Iron Fist — all reside in the neighborhood.
Spider-Man, played by Tom Holland, will debut in the MCU in Captain America: Civil War on May 6 while Spider-Man (final title TBA) will release July 7, 2017.