Why the Spider-Man Movie Title 'Homecoming' Would Make Sense
If 'Spider-Man: Homecoming' is the title of the webslinger's 2017 solo feature, the actual comic "Homecoming" offers a few clues.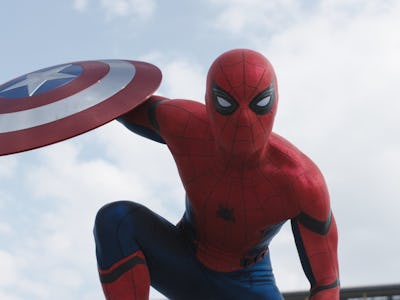 Tom Holland is about to swing into the Marvel Cinematic Universe as Spider-Man in May's Captain America: Civil War, and will then sling his own solo feature in 2017. What that film will be titled has not been announced, but after Sony's first two sets of movie franchises went very plain with Spider-Man and then The Amazing Spider-Man, it's likely that they will get a bit more creative this time around. While all we have is speculation at this point, The BBC may ferreted out a big potential clue, noting that Sony registered the domain "SpiderManHomecomingTheMovie.com" late last week.
Spider-Man: Homecoming is a soft title for an action movie, especially one based on a franchise with so many kick-ass potential names (Spectacular Spider-Man, for example). But it would make sense, story-wise: Homecoming might refer to issue #252, titled "Homecoming" of The Amazing Spider-Man published in 1984. Released after Marvel's first Secret Wars crossover, it features Spider-Man returning to his neighborhood in his infamous black symbiote and begins a new arc with the Black Cat and Kingpin.
The Marvel movies are rarely faithful adaptions — in addition to Civil War, 2015's Avengers: Age of Ultron had little in common with the Age of Ultron books — so you can bet against Wilson Fisk or Felicia Hardy having anything to do in Spider-Man: Homecoming, if that's indeed the title. Still, no one can doubt the new film will be a "homecoming" for Spider-Man to the brand that knows him better than any other studio.