What the 'Spider-Man: Homecoming' Title Means
It's a double-entendre about the friendly neigborhood webslinger.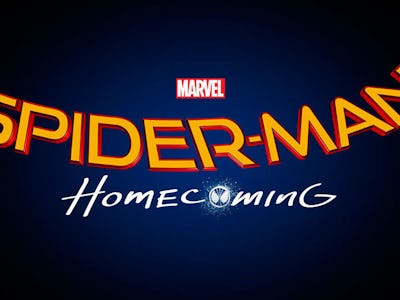 Marvel
Last night at CinemaCon in Los Angeles, Marvel announced the official title for the solo Spider-Man movie starring Tom Holland (who presented on stage) coming July 7, 2017. The internet was right: It's Spider-Man: Homecoming.
Homecoming may be confusing since it isn't titled after books like The Spectacular Spider-Man, Astonishing Spider-Man, or Superior Spider-Man (which would have been hilarious because it could be interpreted as Marvel bragging they know how to do Spider-Man better than Sony or anyone). But as we wrote previously, Homecoming refers to the arc following 1984's Secret Wars where Peter Parker returns home to New York after a gigantic superhero war on Battleworld. And yeah, it's also a meta reference to the fact Spider-Man's film and TV rights are once again owned by Marvel and not another studio.
Captain America: Civil War will mark Spidey's debut in the Marvel Cinematic Universe, in the middle of a colossal battle between the Avengers and other superheroes. But when the fight dies down, Homecoming is Peter's return — and our introduction — to his neighborhood in Queens.
That's just like the Homecoming comic, except in the book Peter returns wearing his infamous black costume sporting enhanced abilities due to the alien symbiote which later creates one of his most famous archenemies, Venom.
Because Sony is planning its own standalone Venom movie you can bet against Peter Parker wearing the black suit in Spider-Man: Homecoming, which has a cartoonish and colorful logo drastically different than either Sam Raimi's or Marc Webb's series (side note: I love it!). There's nothing alluding to a symbiote in the Homecoming logo. But it is worth noting that after the Civil War comics, Peter wears his black costume again as a gesture to show his darker psyche after the war nearly tore him apart.
Judging by the logo of Homecoming, the movie probably won't be that dark. I mean, look at that thing. It's primary color-tastic.
Captain America: Civil War arrives in theaters on May 6. Early reviews indicate it's pretty good.