Sony Is Making a 'Venom' Movie Separate From the Marvel Universe
The symbiotic anti-hero of Spider-Man is getting his own movie.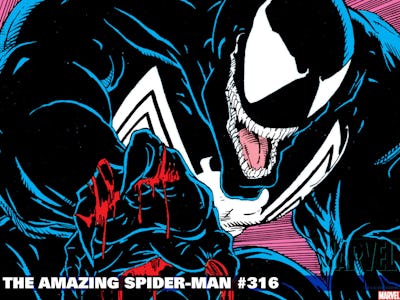 Marvel
In the wake of Deadpool, no comic book villain or anti-hero is immune to a motion picture. Now, iconic Spider-Man villain Venom is getting the star treatment.
The Hollywood Reporter has learned Sony is resuming work on an as-of-yet untitled Venom movie with Spider-Man producers Avi Arad and Matt Tolmach overseeing production. Edge of Tomorrow screenwriter Dante Harper has been enlisted to pen the script. A release date, director, and star are unknown.
Unlike the upcoming Marvel/Sony Spider-Man starring Tom Holland, Venom has been envisioned to stand separately from the Marvel Cinematic Universe as its own franchise. Before the Marvel agreement, Sony was pursuing its own Spider-Man-centric series that would have built towards Sinister Six, a film starring Spider-Man's greatest foes working together as one dangerous force.
Introduced in 1988 — from writer David Michelinie and artists Todd McFarlane and Mike Zeck — Venom is the name of the host plagued by a black, inky alien symbiote that leeches to survive yet gives said host incredible superpowers. Venom is primarily a villain, but he's also been an anti-hero and his status as a fan-favorite have made him almost a hero.
The first to become Venom was Eddie Brock, a disgraced journalist who embraces the symbiote hoping to be a better hero than Spider-Man but only causes more chaos. The current Venom in the Marvel Comics universe is Flash Thompson, Peter Parker's high school bully, who is now working as a government agent and a member of the Guardians of the Galaxy. It is unknown which character the film will feature.
The new movie won't be the first time the symbiote webslinger has been in a movie. The character first appeared on the big screen in 2007's Spider-Man 3, with Topher Grace starring as Eddie Brock.
Since Deadpool made truck loads of money, you can expect to hear about more projects like Venom in the near future. If Sony is serious about their own Spidey universe, maybe we'll see an NC-17 Carnage. (I should probably shut up, I don't want to give any Hollywood executives bad ideas.)