Spider-Man Fans Should Lobby Marvel for a Phase Four 'Sinister Six' Movie
Sony nixed writer/director Drew Goddard's supervillain movie. Your move, Marvel Studios.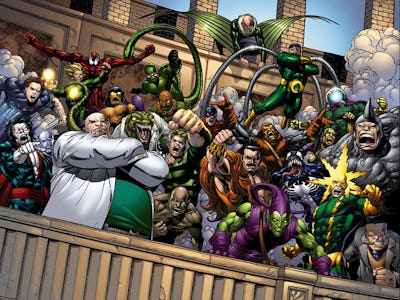 Marvel
Spider-Man fans had a lot to be happy about two years ago. The impending release of The Amazing Spider-Man 2 prompted movie studio Sony to announce an expansion of its own cinematic universe to feature characters from Spider-Man comics. It would be their very own semi-rival to the popular Marvel Cinematic Universe. A spinoff titled Venom, about the web-head's greatest villain, was fast-tracked. Soon after, Cabin in the Woods director and screenwriter Drew Goddard was hired to helm Sinister Six, another spinoff focused on another handful of Spider-Man's most feared villains. Then The Amazing Spider-Man 2 happened. It stunk. Sony reshuffled, canceled its universe-building plans, and joined up with Marvel to reboot a new Spidey series again. With all focus from Marvel and Sony now on the new standalone Spider-Man movie, and Goddard now elsewhere, should fans get angry and push for the Sinister Six to get back on track?
Marvel's so influential by now it shouldn't really care about what anybody else does, but the potential for a Sinister Six movie will largely depend on how well DC's Suicide Squad movie does. Sinister Six is, give or take, Marvel's own kind of Suicide Squad. It would've made protagonists of super villains that have terrorized the pages of Marvel comics for over half a century. Though no plot details have been released because of the aborted plans, Goddard's Sinister Six would have inevitably focused on Green Goblin, Rhino, Doctor Octopus, Vulture, Kraven the Hunter, and the Chameleon all battling our friendly neighborhood Spider-Man.
DC, slow to most everything else, got this right: Inverting the superhero label in Suicide Squad is ahead of the curve. Marvel's nearest approximation, Guardians of the Galaxy, still featured a heroic gang of hooligans. Suicide Squad, though, is all-in on scumbags. If it succeeds this August, Marvel will sure notice. Who knows, one of Marvel's scheduled but unknown Phase Four movies in 2020 could be reserved for the Sinister Six. Fans might as well demand Marvel to take a second look.
It's not like the idea is off-limits to Marvel. Marvel's Spider-Man will rake in a ton of cash regardless of quality, and Goddard is still keen on the idea of bringing his movie to the screen. After Sony eighty-sixed Sinister Six, Goddard told io9, "It was the giant, epic Spider-Man movie of my dreams."
He's the type of guy on everyone's good graces, mostly because he helped usher in Marvel's successful Netflix Daredevil show and made the short list to direct the standalone Spider-Man movie before relative newcomer Jon Watts won the job. Meanwhile, Goddard just earned an Oscar nomination for his adapted screenplay in The Martian, so he may be high-profile enough to get his own project going at Marvel. Fans just need to have some patience and hope the notoriously auteur-phobic studio doesn't alienate him.
"It's a long game. It could still happen," he told IGN late last year, and even if it doesn't get off the ground, he went on to tell them, "I still got to write it. I still got to do it. And you can't take that away from me, man." But in the shifty and lucrative superhero blockbuster game, talent like Goddard doesn't simply disappear. Maybe a push by fans — and the outcome of both Suicide Squad and the standalone Spider-Man movie — is exactly what Marvel needs to let Sinister Six live to harass Spidey on the big-screen again for the first time.