'The Martian' Scored 7 Oscar Nominations in a Big Year for Science Fiction 
Ridley Scott was snubbed, but Matt Damon will have his shot at the 2016 Academy Awards.
by Sam Blum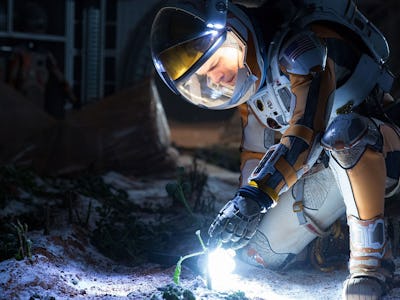 21st Century Fox
The Oscar nominations are out, and the Academy has acknowledged the obvious: The Martian isn't merely the first good movie about Mars, it's an excellent movie, full stop. And with a Best Picture nomination among its seven Oscar nods, it might just wind up as the most decorated movie of 2015.
The Revenant, with 12, and Mad Max: Fury Road, with 10, did get more nominations. And Ridley Scott wasn't nominated in the directing category. Otherwise, everything came up Mars on Thursday.
Like the book that presaged it, The Martian was a commercial hit, and has garnered upwards of $226 million as the Academy Awards approach on February 28. The film has earned seven nominations from the Academy this year, partly due to its combination of sheer blockbuster value and its Robinson Crusoe-cum-spaceman poignancy. It also doesn't hurt that sci-fi is enjoying something of a mainstream resurgence in Hollywood: Enter Star Wars: The Force Awakens, Ex Machina, and Mad Max: Fury Road.
Charming as it was, The Martian had a lot of zeitgeist working for it, as well. Not in every year could an infomercial for science get such traction, but 2015 also saw Pluto gave us the hottest snapshots of the summer and Mars turned out to be wetter than almost anyone expected. It also got some incredibly crafty marketing coordinated by director Ridley Scott and the savvy scientists at NASA. The Academy is hyped on The Martian for a number of reasons, including Matt Damon's lead performance as Mark Watney (he's up for Best Actor) and the red planet's towering CGI landscape and volatile weather systems (Best Production Design and Best Visual Effects). The creation of ethereal martian noise and blaring rocket ships in Ridley Scott's film also tickled Academy members: It's nominated for Best Sound Editing and Best Sound Mixing.
The other nods given to The Martian are a bit more obvious: The film is up for Best Adapted Screenplay, and screenwriter Drew Goddard might find himself one statue richer. If Matt Damon is to win the award for Best Actor, it will be the first Academy Award he's won since he and Ben Affleck won for their 1998 screenplay for Good Will Hunting, which he wrote in his early 20s.