The Martian is the 'Prometheus' Apology Everyone Wants
Has Ridley Scott learned from his previous mistakes?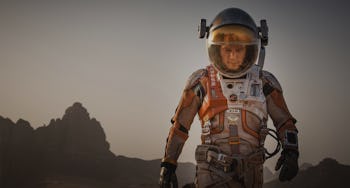 www.foxmovies.com/movies/the-martian
Three years ago Ridley Scott tried and his reputation nearly died with Prometheus, his sorta-prequel, sorta-sequel to Alien. It was a worldwide financial success, but many critics absolutely abhorred it. So after going kooky with The Counselor and doing his historical epic thing once again in Exodus: Gods and Kings, Ridley Scott is back in the sci-fi mood with The Martian.
The new trailer is below.
Adapted from a novel by Andy Weir, the movie is headlined by the infinitely likable (and once most profitable actor) Matt Damon as an astronaut left stranded on Mars after a deadly storm causes the rest of his crew to flee the red planet. With only days to live, Damon's character must learn to survive while his crew mounts a rescue operation to save him. The stacked cast is rounded out with appearances by Jessica Chastain, Kate Mara, Michael Peña, Sebastian Stan, Sean Bean, Mackenzie Davis, Donald Glover, Kristen Wiig, Chiwetel Ejiofor, and Jeff Daniels.
The jam packed trailer seems like it makes the cardinal sin of giving too much away, so let's hope its mix of Gravity and Apollo 13 — with a little bit of Cast Away thrown in for good measure  has a bit more up its sleeve than the trailer lets on.
Otherwise it looks to distill the thinking man's sci-fi mojo of something like last year's extravagant Christopher Nolan jam, Interstellar (which also starred Damon and Chastain), by fitting nicely with Scott's almost innate ability to ratchet up tension with the smallest of onscreen details.
Plus, with genre wunderkind Drew Goddard penning the script, maybe Scott won't be doomed to repeat Prometheus' less-is-more approach that left everyone scrambling to watch Alien, and can just remind themselves that Scott was once the master of this kind of thing.
We'll find out later this year when The Martian hits theaters on November 25.