Daisy Ridley is Teaming Up With J.J. Abrams for the New Sci-Fi Romance "Kolma"
Abrams's Bad Robot is behind her first major non-Rey role.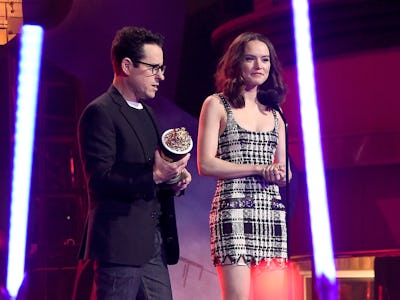 Getty Images/ Frazer Harrison
Daisy Ridley was a complete unknown before her show-stealing turn as Rey, the plucky desert scavenger with mysteriously absent parents in Star Wars: The Force Awakens, making her the face of the highest grossing film in history. J.J. Abrams famously loved her audition for The Force Awakens, and the duo aren't done yet — according to The Wrap, Ridley will appear in Kolma, an upcoming science-fiction romance film by Paramount Pictures and Abrams's Bad Robot films.
If the role pans out, it would be the first major non-Star Wars part for Ridley. Her performance in The Force Awakens put her in high demand for a number of big-budget starring roles, including taking up the mantle as Lara Croft in the next reboot of Tomb Raider, but she's yet to be concretely linked to anything (she's a little busy at the moment). Kolma is based on a 2003 Israeli made-for-TV movie and the Hollywood version has cycled through a fair number of screenwriters — all of whom sounds dubious, but at least the premise has potential. In the Israeli film, All I've Got, a young woman survives after a deadly car accident kills her boyfriend. The film time-jumps 50 years, as the woman is preparing to die, and is faced with a choice — go on to the afterlife and see her love again, or rewind her life to the day of the accident and try to change the outcome. Pretty pulpy stuff, but in the hands of a capable director and with a decent script, Ridley could definitely make it a compelling watch — or it could turn into another messy, forgettable time-travel movie. Marielle Heller, who previously directed Diary of a Teenage Girl, is in negotiations to direct, but we don't know much more about the project other than that.