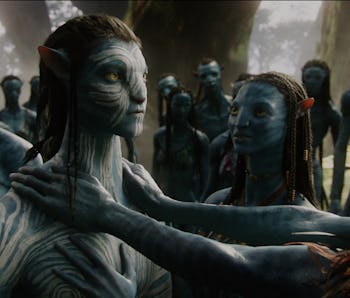 Entertainment
2016 Will Be the Year Box Office Records Don't Matter Anymore
Four 2015 releases are among the top 10 grossing movies ever. What do records mean now?
www.facebook.com/Avatar
Do you realize how much money The Force Awakens has made so far? It's a lot. In fact, as of right now it stands at upwards of $1.5 billion at the worldwide box office, putting it at No. 4 on the list of highest grossing movies of all time. Disney and J.J. Abrams are probably making Scrooge McDuck jumps into the moneypile. It's even gaining on another 2015 tentpole: Jurassic World. That four-quel stands at $1.6 billion, third on the all-time list. These — as well as Furious 7, Avengers: Age of Ultron, and Minions — made 2015 the highest-grossing year at the box office ever, with $38 billion in receipts. Even with more options than ever to experience movies, audiences are still lining up at brick-and-mortar cinemas and spending huge amounts of money for 3D tickets, for IMAX markups, and for other premium experiences. What we are even doing anymore is hard to tell. Box office records are all but meaningless.
The current box office king is James Cameron's Avatar with more than $2.7 billion in worldwide grosses, followed by Cameron's Titanic, at $2.1 billion. With releases in 2009 and 1997 respectively, they're the two movies that seemingly still can't be beat — yet. It took Avatar 72 days to reach $1 billion during its theatrical run. The Force Awakens needed just 19 days. So realistically it's only a matter of time before the movie about giant blue cat people riding dragon creatures is taken down by the sci-fi soap opera soft reboot.
The Force Awakens has resurrected Star Wars, so it will all but render the era of box office records pointless. Hollywood producers and executives will continue to laud the blockbusters that earn eight- and nine-figure grosses. But for viewers, the dollar figures are so inflated they've ceased to correlate to how much people loved certain movies. Where's the fun in that? Where's the competition?
Avatar has held the record at the domestic box office for seven years — $760 million. Yet, later today, The Force Awakens will overtake it, less than three weeks after its release. Considering half of the highest-grossing movies ever were released in 2015 — mostly aided by massive fandom, name recognition as sequels, and increasing ticket prices for 3D and large formats — the factors that led them to become new box office champs will only increase.
Here's how this crescendo plays out. TFA will take the crown in 2016, but its reign will be threatened three years from now with the release of Jurassic Galaxy, or whatever they eventually call it. The year after that 9 Fast 9 Furious will overtake it before the next Star Wars movie is teed up, and so on. Will we be valuing movies in the trillions in 20 years? We should rue the day when a movie's $1.5 billion grosses make it a flop.
Accordingly, budgets will also bloat — multiplying the risk. The $200 million budget of The Force Awakens was assured to be recouped in its first weekend. But recall the relative failure of last year's James Bond movie, Spectre. After the previous installment, Skyfall, topped $1 billion on the way to becoming the highest-grossing Bond movie, the filmmakers simply threw money at Spectre, spending $245 million. And it did well — but still sits more than $300 million shy of Skyfall worldwide, a relative financial disappointment. It's absurd.
There's just no middle ground anymore. But for all the old man yelling at a cloud gripes about the old days, this kind of thing was inevitable from the moment Jaws became the first movie to gross over $100 million to the moment Spider-Man became the first movie to make $100 million in its first weekend. So what'll the next meaningless milestone be? We'll know more once we see The Force Awakens break that $3 billion barrier.