The 'X-Men: Apocalypse' Viral Trailer Recalls Terrifying '80s TV Documentaries
Flashback to a time when conspiracy documentaries were actually scary, thanks to 'X-Men: Apocalypse.'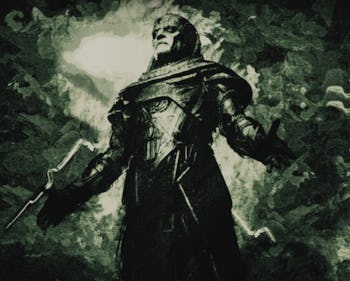 YouTube.com/20th Century Fox
"Almost ten years ago, the world first learned the existence of mutants."
What looks like a commercial for a scary, 1980s-era television documentary on mankind's conspiracies is actually a "viral" spot for Marvel and 20th Century Fox's X-Men: Apocalypse, out May 27. It also sounds like it's narrated by Star Trek and internet dad George Takei, but he narrates everything anyway. So who knows?
In the Footsteps of… En Sabah Nur, as the "documentary" is titled, is exactly like a vintage TV conspiracy movie, much like the one Orson Wells made about Nostradamus and his predictions, The Man Who Saw Tomorrow. I saw that as a kid, and while it starts reasonably — or at least is just fun to watch — it ends full koo-koo saying the world will end in (dramatic voice) May 1988. In retrospect, it's hilarious.
But In the Footsteps of… En Sabah Nur is even more fun, because it's actually right. Set in the X-Men universe, there is a mutant boogeyman who has lived for centuries, and it's the purplish Apocalypse that Oscar Isaac plays in the movie.
The viral marketing for the X-Men movies have been pretty solid, like the website for Trask Industries Fox made to promote 2014's X-Men: Days of Future Past. It's head and shoulders above the competition, like the broken wi-fi Warner Bros., or rather, "LexCorp" gave at New York Comic Con. It just sucks Fox uploaded this thing to their main YouTube channel. Half the fun of this faux conspiracy stuff is that you're not supposed to actually know that it's just a giant commercial. It sours the illusion.