Buy the Full Season of Louis C.K.'s 'Horace and Pete' for $31
The dark comedy can be downloaded in full exclusively on his website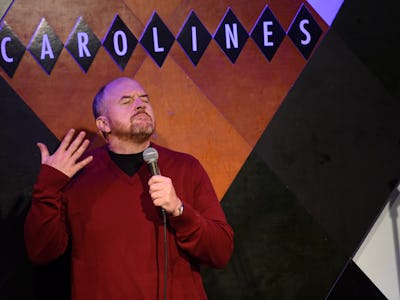 Ilya S. Savenok/Getty Images 
The dark, sad and unique experience that is Louis C.K.'s Horace and Pete is complete; and all 10 episodes are available for purchase on his website for $31.
Ever the media distribution disruptor, Louis C.K. made the series — in which Horace, played by C.K., and his brother Pete (Steve Buscemi) own and operate a watered-down Brooklyn bar, available one episode at a time exclusively through C.K.'s website.
For those still unsure if they want to commit to the full series, the first episode is $5, the second is $2, and the remaining all cost $3. The full series package costs the same as buying each episode individually — for fairness to the early adopters — and those who only bought some of the individual episodes can chose an option called "complete my season."
In an email to his subscribers, Louis said fans have written to him numerous times asking for the show to be available in its entirety, at one price. However, he explains that he made the show week-to-week, and wasn't sure when or if there would be an end.
"We made the show one episode at a time on a weekly basis as it aired so if I had let you pay ahead of time, and then something happened that would have prevented me from making the whole season, I would have owed a dizzying amount of people a small amount of money each," Louis wrote.
The comedian and actor is on an indefinite hiatus from his award winning FX show Louis, which has its own quirks, but is distributed in a more traditional fashion than the media he releases on his website.
He mentions in the email that he doesn't intend for this show to be binge watched given its odd pacing. He encourages fans to take a week's break between episodes and contemplate each for a while in the same way that fans following the series from the start have done.
"I chose to do the show this way, knowing that it would be a quiet and strange experiment and that only a few of us would take part in this stage of it, that has just ended. The creating, unfolding and watching of the show, one episode at a time, from nothing," Louis wrote. "I am grateful to all of you that took this trip with me the way that you did, not knowing what you were getting, how much you were getting or how it would all feel. I was right there with you. I didn't know how any of this would go or feel."
Louis wrote that fans will be seeing his face on talk shows a lot in the coming weeks as he prepares a promotional tour, writing: "Sorry ahead of time for how annoying it will be to see me and hear me yammering about this show and promoting it, flying in the face of the whole idea of watching a show from nothing and seeing where it goes. But I want folks to see this show."