Louis C.K.'s 'Horace and Pete' Is a Dark, Sad Experience
Today, Louis CK surprised fans by posting a new online series, 'Horace and Pete,' that just really makes you want to cry.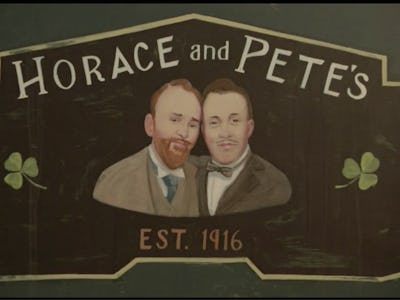 Louisck.net
In the surprise new series of the day, Horace and Pete, Louis C.K. plays Horace and Steve Buscemi is his brother Pete. They own and run a Brooklyn bar where the booze is watered down and people talk heatedly about the Super Bowl.
This morning, C.K., who is on an indefinite hiatus from his show Louie, dropped the first episode in his new online series, selling it for $5 a download on his website. It plays out like theater, complete with an intermission. It manages to be beyond dramatic with a bit of heavy-handed satire and commentary on family, humanity, and the upcoming elections.
Though woven through with comedic actors, it doesn't elicit a whole lot of laughter from the viewer. It's basically an hour-long play that exhausts emotionally. As you watch, you feel the pain of all your ancestors, their shit lives, and you realize how difficult it is to connect with other people. Basically, it leaves you feeling hella lonely.
The other main players in the show are two explosive characters. Their Uncle Pete is played by Alan Alda, and their father's last girlfriend Marsha is portrayed by the lovely Jessica Lange. Within minutes of her arrival, Lange yells "Fuck!" while Alda walks in and unplugs the jukebox and calls C.K. a "miserable cunt."
Aidy Bryant is Alice, C.K.'s daughter, who manages to reign in her hilarity for this role. C.K. insists that she call and not text him, but instead, she stops by in person — a sort of a commentary on intergenerational communication, a foreshadowing for the final scenes where tension arises around Uncle Pete's idea of family tradition and the actual law.
That strained relationship between the old and the new, the seasoned drinkers and those who just want one cocktail, is the theme of the episode. Alda kicks hipsters out who marvel at how old the bar is. An old-timer comes in with a sob story about how he met his wife who later slept with his best friend at that bar. He shot them both in '61, and came straight to Horace and Pete's out of jail. Then he weeps. There's a joke in there when Buscemi's character, who's having a psychotic breakdown, says, "Is that guy really there?" But it's too sad to be funny.
The show was filmed very recently too. There's a conversation about Donald Trump — in it he already dropped out of the debates that took place this week — there's talk of Hillary's emails, and what it means to be a liberal or a conservative. Lange says, "Hillary Clinton is a cunt, and I'm a liberal." It's hard to not see that as a jab from the creators.
Given that it's so timely, was this a last minute sort of thing? Will each episode be filmed to reference the present news cycle? How much is improvised? Did Paul Simon really write the theme song? If we can get our emotional footing back before the next one goes live, we'll soon have more answers.