All The Possible Influences on Jared Leto's Joker 
Forget Scarface and Hamlet, we know the real influences Leto is channeling in 'Suicide Squad.'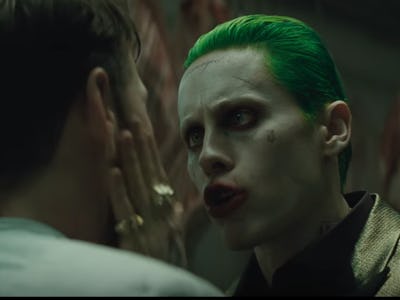 Warner bros/ Youtube 
When Suicide Squad comes out this summer, expectations for Jared Leto's interpretation of the Clown Prince of Crime. Leto has cited Scarface and Hamlet as possible inspirations but he also told Entertainment Weekly, "I haven't formulated a lot of my thoughts on this." We're (generously) here to help him out and formulate his thoughts for him. Below are some more influences for his take on the Joker.
Darth Maul
It might seem unlikely on the surface, but he's a villain with a killer face-paint game. What's less likely is Leto ignoring the Maul influence in his method-acting preparation.
Christopher Walken
Christopher Walken might be a real person (and not fictional) but that doesn't mean he can't be an inspiration. The crazy eyes, the delivery: It's all there in the Suicide Squad trailer. Plus, you can't say the Joker doesn't want more cowbell.
Daenerys Targaryen
This one isn't even far-fetched: She's got oddly colored bleached hair that distinguishes her, and if you get on her bad side, she has no problem watching the world burn after siccing her beloved dragons on it.
Suicide Squad set reports — and sneaky set photos — indicate a showdown between The Joker and Batman. The both look to be struggling over the Joker's sweet new ride as intensely as if it's Daisy, John Wick's beloved dog.
With reports rampant that Jared Leto's Joker might wear a merkin or that he might not actually be Suicide Squad's real villain, we'll be waiting with bated breath for the films August 5th release date. Bring on the newest Prince of Crime.