'American Crime Story' Season 2 Will Star Courtney Vance and Hurricane Katrina
Also: Scientology may be involved and John Travolta might play himself. We dive into the details.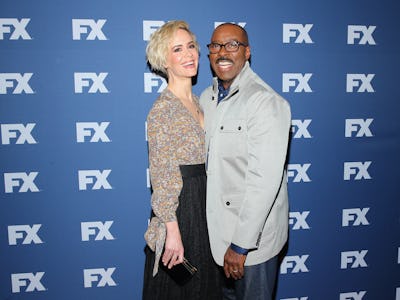 Jemal Countess/Getty Images
We have limited information about the direction Ryan Murphy's latest FX anthology show, American Crime Story, will take following its extremely successful first season, The People V. O.J. Simpson. The Simpson trial turned out to be a hot-button topic — it's almost an American folk tale at this point — and the ratings for the series consistently climbed across most of its 10-episode run. It remains to be seen if Murphy, co-producer Falchuk, and the team behind the show can make their chosen subject matter in Season 2 equally compelling.
In January, Murphy revealed to The Hollywood Reporter that the next "crime" the show would explore was… Hurricane Katrina. He explained the unusual choice, and his expansive definition of "crime story":
"I want this show to be a socially conscious, socially aware examination of different types of crime around the world…And in my opinion, Katrina was a f—ing crime — a crime against a lot of people who didn't have a strong voice and we're going to treat it as a crime. That's what this show is all about."
Murphy's choice may, on one hand, be less compelling because the actual "story" of Katrina is not as streamlined and iconic as the O.J. saga. Inevitably, a show about the missteps surrounding the response to the hurricane, and its tragic aftermath, will be more scattered.
On the other hand, it has the capacity to be a much more interesting show, at least plot-wise. It remains to be seen whether a Katrina show can draw as many viewers as O.J.; perhaps some will think, "I've already watched Treme." But certainly, the topic is an interesting one which touches on many political and social issues It's something which people are interested in, and still somewhat bewildered — or outright horrified by. What actually happened? If anything, it was a bizarre domino effect, and if Murphy and company can outline that series of events in a narratively compelling way, he may be able to turn his best TV seasons to date.
Also, ACS producing director Anthony Hemingway talked to THR about how the show will differ from Treme, demonstrating that there will be a conscious effort to make the story distinctive. "Treme was a different part of the story in that it highlighted the people of that city coming home and trying to revive life… American Crime Story will really focus on the beginning of that and the awful crime and tragedy that happened when it first started."
The question remains: who will write the season? O.J. showrunners/writers Scott Alexander and Larry Karaszewski will not be on board — They are in the process of adapting a forthcoming Jeffrey Toobin book (Toobin wrote the tell-all book on which The People V. O.J. Simpson is loosely based) about the Patti Hearst kidnapping as a feature film. Rumors have circulated that Jennifer Lawrence is set to be its star, but that is as of yet unconfirmed. Alexander and Karaszewski — known for their work on The People vs. Larry Flynt, Man on the Moon and Big Eyes, previous to O.J. — have a long pedigree of critically acclaimed odd biopics to their names. Theirs will be big shoes to fill, but if there's anything Ryan Murphy is good at, it's wrangling big stars of all kinds to his projects — be it John Travolta, Ariana Grande (who guested on Scream Queens), or director John Singleton, who turned in the best episode of O.J..
In terms of the cast for Season 2, we have only one specific, but very important confirmation: Courtney B. Vance, who was definitely the MVP of American Crime Story's first season as perhaps the show's most multifaceted character, Johnnie Cochran. E! News also reports that Sarah Paulson, Cuba Gooding Jr., and Sterling K. Brown have all also expressed interest in joining the new cast, were Murphy to reach out to them.
The only other relevant cast-related information at the moment is that John Travolta — who played Robert Shapiro in O.J. — no only wants to work on the show, but wants to play himself on it. He, his wife Kelly Preston, and the Church of Scientology were involved with providing aid and flying supplies to the victims of the hurricane, and he sees his experience as something that could be relevant to the story Murphy wants to tell. As Travolta put it to THR:
""These men had lost their families and lost their homes, and yet they were still looking for [other] survivors because no one had arrived at the scene yet. Then this big brute of a guy looked at me and started sobbing. He held me and I held him, and I didn't even know him. It was because I was a familiar face, and in this chaos it was the first sign of help. If I had arrived there, it meant that help was on its way. So I love that moment. I don't know what they're going to write, but that moment alone is equivalent in this last episode to when Darden hugs the Goldman family. It's that kind of thing, and at some point that has to happen."
This is definitely Travolta being (typically) bonkers and self-aggrandizing, and a Scientology angle seems like a truly weird sidebar for a Katrina narrative to focus on. But doubtless Travolta wants to keep the minor career resurgence O.J. has been for him going, and it might be entertaining to have his always-eerie, ever-awkward presence impinging on another Murphy drama. But could he be as perfect for any other role as he was for Shapiro? It seems unlikely.
All signs point to American Crime Story Season 2 being as interesting an affair as O.J., but whether or not it will be as consistent and popular is another matter. It will depends on who Murphy and his co-producers Nina Jacobson and Brad Simpson actually put in leadership position, both off-screen and on. O.J., ultimately, became a truly great show by virtue of its acting; let's hope Murphy doubles down on what made Season 1 so emotionally resonant, and doesn't try too hard to reinvent the wheel. As we know already, Murphy has a tendency to fly off the rails sometimes.