John Singleton and 'The People v. O.J. Simpson' Made 2016's Best TV Episode So Far
Episode 5 of 'American Crime Story' is a fantastic achievement from the 'Boyz n the Hood' director.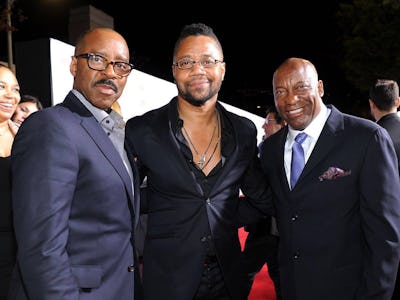 'American Crime Story: The People v. O.J. Simpson' Facebook
It required taking a break from the usual head personnel, in favor of a new director and writer. It took shifting focus to essentially just two characters — luckily, the show's most interesting ones, portrayed by its finest actors. It necessitated working through some difficult themes subtly, tastefully, without winks or distractions. But somehow, The People v. O.J. Simpson — a show this writer has been very on the fence about — managed to turn in the greatest television episode of the year so far with last night's "The Race Card." The moving and tense episode comes courtesy of legendary L.A.-reared director and writer John Singleton, of Boyz n the Hood and Poetic Justice fame.
Producer Ryan Murphy and ACS' showrunners were wise to enlist a new, experienced voice for an episode like this one. Up-and-coming writer/director Joe Robert Cole's script sinks its teeth into issues of racial identity — most specifically, the controversial role Christopher Darden played on the O.J. prosecution team — while remaining impartial. Even more impressively, it's almost all done in the context of the events surrounding the trial.
With his baiting and denunciation of Darden both in the media and on the stand, Johnnie Cochran's ruthlessness deepens in this episode. Yet even as we begin to understand Darden's rock-and-a-hard-place situation better, Cochran — portrayed by Courtney B. Vance — remains a flawed hero of sorts. In a powerful opening segment, we see Cochran, in 1982, being profiled and taunted by a cop in the car with his children. Finally — in cuffs for not using his turn signal — he reveals he's the assistant D.A. Moments like these haunt Cochran, presaging his grand gestures and desire to win; likewise, Darden's feelings of inadequacy and marginalization in college, law school, and professional life "never left him," and lie behind his decision not to, personally, put Fuhrman on the stand.
Cochran, Darden, and Simpson — who stands up for his own choice to sever ties with his past — are portrayed as each reacting to the same basic, overarching injustices in different ways. They are not caricatured; Singleton and Cole create a feeling of overwhelming intimacy, which has been previously been absent from, or botched in this show. We watch the three men react to very high-pressure situations — being enacted in the public sphere, at that — and spiraling out of control as the transition into trial proceedings becomes more chaotic.
Both the defense and prosecutions teams are in upheaval, and at the crux of their discord is the nature of the roles which Cochran and Darden, respectively, will take in the proceedings. Cochran is seizing control from Shapiro, and advocating scorched-earth tactics; Darden is being pushed toward the front lines by Clark, but wants to proceed with more dignity and scruples than the nature of the case will perhaps allow him. Simpson is dazed, forced to put aside his ego and let Cochran take the reins of his defense, and in so doing, reshape who he is. In some way, his final dash for freedom in the Bronco, and his demeanor as the gravity of his situation has sunk in, reveals how important "who he is" is to him. Rendered something of a non-entity, he is bewildered and sullen — his swaggering pride displaced, his anger in the courtroom shushed away before it begins.
At the odd nexus point of the episode, however, O.J. can be restrained no longer. The jury's bus trip to the various settings at issue in the case is an odd, confusing moment for everyone, save — perhaps — Cochran, who's arranged O.J.'s home to create the image of a loud-and-proud, family-oriented African-American male — hiding away Juice's snaps holding tiki drinks in the arms of blonde models. "These aren't my kids," he murmurs vaguely, picking up a family photo in his foyer. Later, Darden sits by Simpson's pond — feeling defeated after Cochran's staged scene is revealed — and O.J. unleashes his fury. "Get off of my bench," he yells, emphasizing the point made to Cochran earlier in an interrogation room: essentially, I always just wanted to keep what I had earned.
The episode highlights, more than ever, how important these interpersonal relationships are and, for the first time, manages to steer clear of overly blunt symbolism. The complexity it adds to Darden, who was much-maligned in the media at the time — and remains perhaps the most difficult-to-distill character on the show — is its most impressive and moving element. The episode's power comes from a perfect synergy between stark, intimate camerawork (focusing on actor Sterling K. Brown's expressive face, exaggerating his body language while interrogating Fuhrman), a taut script, and tremendous dramatic performances. Sadly, this will be the only ACS episode Singleton will direct, but hopefully the show will continue to give these three actors a chance to provide their characters with added, instructive layers of depth.