Brad Falchuk and Ryan Murphy's Tyranny of the Airwaves Will Continue for a While
'American Crime Story,' 'American Horror Story,' and 'Glee' producer Falchuk just signed a new deal.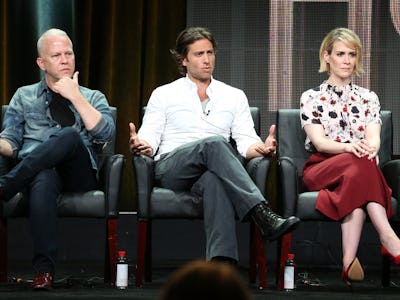 Frederick M. Brown/Getty Images
Did you fall off on Scream Queens after you realized it was plotless and tiringly self-aware? Did you find American Horror Story: Freak Show and Hotel unwatchable and borderline tasteless? Don't worry, there's plenty more Brad Falchuk — and presumably, Ryan Murphy-helmed — television on the way. Falchuk has just renewed his contract with 20th Century Fox. AHS and American Crime Story — their best in a while — will be continuing for future seasons, as well as Scream Queens, even despite its ultimately poor ratings.
But the new deal gives Falchuk the opportunity to develop new projects "for broadcast and cable," as well. So in addition to the experimental drama content, perhaps we can expect a new Fox primetime project in the Glee vein. It seems unlikely, however, that Falchuk and Murphy (his partner on all of his successful projects) could possibly recap the level of success they've had on earlier shows. Their style is a known commodity now, and unfortunately, no longer as revolutionary or engrossing as it once was.
Maybe a postmodern, slightly campy sci-fi show could be the best next move — uncharted genre territory for them. But we can't say, in good faith, that we can expect future ventures to be good. But enough people will sample them that the studio will rake in a healthy profit.
All thanks to Falchuk and Murphy, though, for bringing in revenue and a higher profile for FX programming, the station that is consistently doing the best work on cable television at the moment. Just don't push Fargo and The Americans off the air with too much of your bullshit, guys.