What Can We Expect From 'The Americans' Season 4?
The Keri Russell and Matthew Rhys-starring teasers don't offer much, but there are a few subtle clues for what the next episodes -- which begin airing in March -- have in store.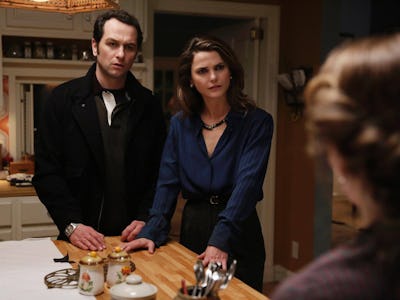 The Americans Facebook
Fans of FX's The Americans have been eagerly anticipating the cult favorite series' next season for well over a year now.
It's not just by virtue of the fact that the show, which stars Keri Russell and Matthew Rhys, is a generally excellent, endlessly enjoyable watch — full of great characters, humor, history-buff curiosities, and legitimately hair-raising action — but because Season 3 ended on a particularly potent cliff-hanger.
The final section of the episode was another landmark example of what should probably hitherto be called the Breaking Bad cat's-out-the-bag moment: Paige spilled the beans on her parents' true profession to Pastor Tim.
Now, we have confirmation that the series will return in March.
This put the show at a risky crossroads: They could just go batshit with Elizabeth and Philip's characters, make them dip into their heart of darkness and kill everyone Walter White-style. Or they could pull some more unconvincing, implausible gambits to help Elizabeth and Philip keep their cover.
There's also the issue of Philip's private decision to quit working as a KGB agent, left unexpressed at the end of the finale. This doesn't seem like an ambition he's going to put on the backburner again; he's already done that before — as in, in the series' pilot.
So will this season be Philip and Elizabeth at war? Doubtless, in some sense — just unclear how cold it will be (LOL).
But from what the thoroughly unsatisfying FX teasers circulating this month indicate, there will be blood, one way or the other.
In terms of other details about what to expect when the new episodes start in March, very little has seeped out. The only interesting tidbit is that both Frank Langella and Margo Martindale — who play cold-blooded KGB operations facilitators — have been confirmed for the season. If that's true, and Elizabeth has brutal reinforcements, things look pretty bad for Paige, Philip, and (definitely) Pastor Tim.
Also, watch out for all these people:
Reagan is cracking down, and hopefully The Americans will stay as ruthless and compelling and ever.