Tesla's Model 3 Gigafactory Will Have the "Largest Footprint of Any Building" in the World
Elon Musk has no problem going big.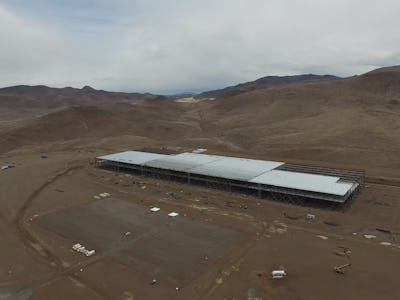 YouTube
In non-scientific terms, Tesla is about to make a shit-ton of cars. In scientific terms, they're about to make a metric shit-ton of cars. According to Elon Musk, Tesla's enormous Gigafactory in the Nevada Desert will have the largest footprint, or physical area, of any building in the world.
Musk gave more detail on his company's new flagship manufacturing center at Tesla Motors's Model 3 reveal event on Thursday night. The Gigafactory will produce both lithium ion batteries and Tesla cars, putting out another 500,000 cars per year, the same as the existing Fremont factory. Musk said it will produce more lithium ion batteries in a year than were produced in the entire world in 2013.
In sheer size, the gigafactory is second in volume only to Boeing's gargantuan airplane factory in Washington. The Tesla Gigafactory is larger in ground area, but the Boeing airplane factory is understandably a lot taller. Still, the footprint of Tesla's Gigafactory technically makes it the largest building in the world, knocking off the Aalsmeer Flower Auction in the Netherlands.
"This is a vital element," Musk said in his presentation of the Model 3. "To give you a sense of scale, the Gigafactory will have the largest footprint of any building of any kind."
Musk has never been shy of dreaming big, and he's banking a lot on the success of the Model 3 and Tesla's colossal new factory.
The Model 3 is Tesla's chance to break into the affordable electric vehicle market. With an initial price point of just $35,000, demand for the new Tesla is soaring — over 115,000 people have preordered the new car more than a year before it's set to begin production.
Tesla broke ground on the Gigafactory back in 2014, but it should start producing batteries in 2017. It's not finished yet, but you can check out drone footage of the building site below.
The Model 3 should be on the assembly line in 2017, and Tesla's Gigafactory will be the beachhead of the electric car invasion that will surely follow.