Kodak Black, Kamaiyah, Lil Uzi Vert and More Rappers You Need to Know About
A look at five current MCs with some to a lot of potential.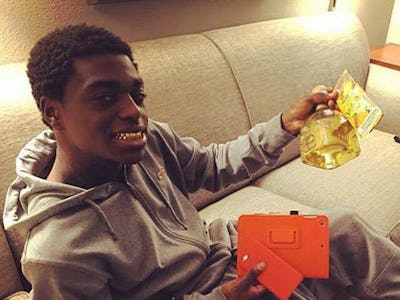 Kodak-Black/Facebook
The 2016 rap scene is suffering a real and palpable drought of singular, up-and-coming talent. In the wake of the full-on crossover popularity of Atlanta trailblazers Future and Young Thug, the bulk of buzzworthy street rap seems to consist of artists with less malleable sensibilities attempting to hone in on or outright ape elements of their style. Just take the The Life of Pablo-sampled Designer, G.O.O.D. Music's newest signee, who has come under fire for specializing, apparently, in a very good Future impression.
Even the top tier of current hip-hop artists don't bring much fresh material to the table stylistically. Their strengths are either in beat selection, phrasing, or fresh lyrical perspectives on familiar tropes. Usually, it's a healthy combination of the three. But these artists' releases are all — to some degree, in a positive sense —emblematic of hip-hop's direction. Here are five of the most promising acts struggling to build a reputation right now.
Kodak Black
The 18-year-old Pompano Beach MC is Florida's most crucial contribution to hip-hop since now-veteran Plies. His bright, pitched-up narrations and penchant for trying on beats from standard-issue trap (the least successful) to retro beat jacks to sunnier, early-00s-throwback slow jams. His latest mixtape, Institution, is a bold, encyclopedic, and (amazingly) feature-less statement, positioning his style as a perfect blend of his self-described influence Chicago drill pioneer Chief Keef and Baton Rouge icon Lil Boosie. Viral hits like the excellent "No Flockin," "Skrilla," and the inferior "Skrt" — with video views tallying over 7 million — helped him score a major-label contract with Atlantic Records at the end of last year.
Mozzy
Tripping for my n——s I ain't seen in years/ Shedding tears that will never make em' reappear/ You can kill the body, can't kill the spirit/ As long as I got it on me I don't live in fear/ Might get a lil' nervous I ain't never scared/ I'm in the middle of the static you ain't never there/ Remember all the hammers that we used to share?/ We was kids killing everything in the air
Sacramento's Mozzy — as weve specified before — is today's finest up-and-coming rap lyricist. He has yet to properly arrive on the national scene, but he's had the most impressive quality-to-quantity ratio of any rapper working, having released four hefty and emotionally resonant mixtapes last year. His chosen production — a tantalizing amalgamation of classic West Coast gangsta flair, trap music, and the airy textures of the so-called "cloud-rap production of producers like Keyboard Kid and Clams Casino — is an important part of the unique quality of these these tapes. But the shape of Mozzy's detailed yet economical accounts of dealing, incarceration, coming-of-age, and loss are the central attraction, comparable to little else in the hip-hop landscape. To date, YG has been the only major artist to co-sign the Sacramento rapper in a significant way — Mozzy features on the Compton rapper's 2015 drop "City Mad" — but it's inevitable that Mozzy's work ethic and significant local fan base will help him make a larger impact.
Kamaiyah
Kamaiyah scans like an overnight sensation, specializing in fun, 90s-nostalgia music, which mixes the rhythmic sensibilities associated with the hip-hop tradition of her native Oakland with sparer, more melodic flows. The strength of the music on her debut album A Good Day in the Ghetto relies on her ability to know where to sit in a beat. The result is a collection of full, well-varnished tracks with the potential for crossover pop dominance and simply blogger adulation — that has already come in a relatively big way. This hype, however, remains incommensurate with overall public interest; her views and follows, even on her breakthrough track "How Does It Feel," are languishing in the thousands across all platforms, evidencing that her grass-roots fanbase is not anywhere near as formidable as Kodak's or Mozzy's. It will be interesting, though, to see if her reputation can catch up with the professional prowess of her music. She, for one, seems confident about it:
Lil Uzi Vert
Philly's Lil Uzi Vert is a hard sell, at first: he's a definitively post-Young Thug rapper whose musical identity has been perennially in flux since he appeared on the scene circa 2013. There's a Lil B-like, free-associative quality to some of his music, a rigid post-Migos precision for some of his quicker flows, and a melodic, Autotune-drenched sensibility that falls somewhere on the rocky spectrum between Drake and Chief Keef. In any case, on his diverse October mixtape Luv is Rage, Uzi seems to be throwing everything at the wall in an effort to make a more permanent mark, and find some traction with specific hits rather than saturating the market. He has some more work to do before distinguishing himself, but the mechanics of strong songwriting are in place, and he continues to be an interesting figure to watch.
Famous Dex
In terms of standard-issue, Atlanta-styled, club-friendly trap music, you could do no better in the younger generation than Chicago's Famous Dex. It's sometimes hard to tell the difference between Southern-grown trap and the sparer, more ominous Chicago variant known as "drill," and Dex adheres more to the goofy, free-wheeling spirit of Atlanta swag rap, while blending it with the extreme loose, off-the-beat stylings of his influential hometown hero Keef. You'll hear a good amount of Based God influence here, too; multiple vocal tracks amplify and clutter the mix, making for strikingly busy, sometimes avant-garde-sounding tracks. A collaborator of Atlanta up-and-comer Lil Yachty, and currently signed to Rich the Kid's label, Dex might seem like straightforward Southern-styled swag, but the picture is actually a bit more complicated — cubist, even. Though his comrade Yachty's star is shining brighter at the moment, there's little doubt that Dex is the more interesting artist.