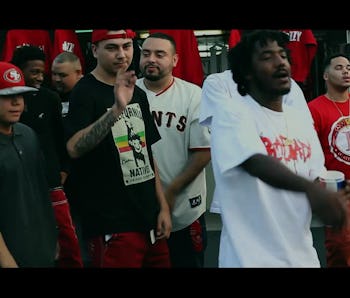 Entertainment
Vic Spencer, Dr. Yen Lo, Mozzy, and the Unheralded Rap of 2015 | RAPS ONLY 
Great rap projects from Chicago, L.A., Sacramento, and Brooklyn.
Facebook
There is no question that 2015 has resulted in almost an overload of good music, and definitely an overload of music in general. And the dizzying structure of Friday release dates inevitably results in a long backup list accumulating for obsessive music fans. This week, Raps Only takes a look at some striking rap releases from this year that deserve more attention than they got — don't neglect them on your year-end playlists.
Vic Spencer — The Cost of Victory
Englewood, Chicago veteran Vic Spencer has moved on the periphery of the Chicago underground rap scene for years, never formally integrating into any of the crews that have gained national blog attention — or better. Nonetheless, he knows everyone — whether they love him or hate him for his outspoken insult raps, which are sometimes directed at his hometown colleagues. Spencer tends to shift stylistic reference points on every release — channeling Wu-Tang, DOOM, and even Odd Future at alternate moments. But his latest retail album is his most complete statement of purpose yet, an album of warped, non quantizing boom-bap with Spencer extending the dream of Redman at his least contained, rapping with more energy, humor, and purpose than almost any MC going.
Additionally, whenever Vic's collaboration with his protege and fellow irreverent upstart Chris Crack drops — probably before the end of the calendar year — it's going to be a major event for Chicago. Their single — billed to Chris $pencer — is one of my personal favorite rap songs of the year:
Dr. Yen Lo — Days of Dr. Yen Lo
Ka has been, on the low, the finest and most distinctive rapper in the five boroughs of New York City for years. The Brooklyn rapper's sibilant, subdued, and hypnotic rhyme style is packed with endless dizzying turns of phrase, and his past two releases as a solo artist, 2012's Grief Pedigree and 2013's The Night's Gambit are two of the finest neo-traditional "lyrical" rap releases of the past five years. His collaboration with producer Preservation from this year is a near-percussionless melange of modal jazz, orchestral music, and blaxploitation-soundtrack samples that somehow manages to sound wholly outside its sphere of musical influence. The concept of the album is based around the early-60s paranoiac thriller The Manchurian Candidate, and intrigue hangs thick in the air.
Ty Money- Cinco de Money
If you thought the triple-time flow of Migos was worn out to the point of being no fun anymore, and that the hardcore drill rap of Chicago was at this point a foregone conclusion, rising Chi street rapper Ty Money's excellent mixtape from this year should correct your basic-ass mindset. Over a combination of original and recycled beats, Ty bends all your favorite trap flows out of shape, giving this style of music the infectious sense of humor it is too often missing. Often, he takes a fuck-a-hook approach, but it reminds us — in these hit-centric times — why good hip-hop doesn't always need them. Fans of Meek Mill in old-school, hungry mixtape mode, especially, will approach Ty's refreshing perspective. Again, for me, Chicago is rap's first city.
Mozzy- Yellow Tape Activities
Sacramento's Mozzy has three — soon to be four — excellent mixtapes out this year, as I've called attention to before. Like the great Boldy James in Detroit — and many of the Bay Area gangsta rappers in the tradition of C-Bo and The Jacka — Mozzy's skill is wringing gravitas, pitch-black humor, and complex narrative scenarios out of strings of conversational, economical slang. No one quite sounds like him, and there's rarely a misfire on his tapes, particularly Yellow Tape Activities and Bladadah. This is some of the heaviest street rap you'll hear this year, and yet it's all happening over featherweight, Cali-style step-clap beats of the steeziest order. Mozzy falls in front of and behind the beat, but is always in command of it.
Ty Dolla $ign - Free TC
Compton-bred hitmaker and reprobate crooner Ty Dolla $ign's major-label debut was released to little fanfare and meager sales, but like his most crucial collaborator YG's Def Jam debut last year, it was one of the most cohesive rap albums of the year. Ty's style is diverse, if grounded by a perverse sense of humor that can be off-putting. When grounded with the epic, orchestral post-hyphy production he favors here and consistently polished and immediately infectious songwriting, however, it is undeniable. Something about the earnesty of these backdrops up against his lurid come-ons (where women may be "horses in a stable/that [he] can ride) adds up some of the best pop music of this year, period. Ty is a strange and peerless type of genius. Give him a chance.