Prescription Marijuana for Everyone? Epidiolex Makes Run at Pharmacies, Colorado
If approved by the FDA, Epidiolex will change the prescription drug landscape, allowing some epileptics to stay home.
by Christine Jun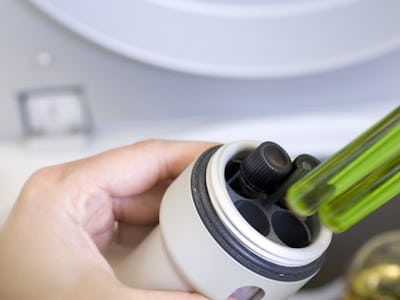 An experimental drug called Epidiolex, derived from marijuana, has been shown to reduce epileptic seizures in its first clinical trial. Over a 14-week treatment period, Epidiolex reduced the frequency of seizures by 39% in children with Dravet syndrome, a severe and incurable form of epilepsy, compared with a 13% reduction in a control group. The two other similar drugs already on the market, Dronabinol and Nabilone, are synthetic chemicals either similar or identical to delta-9 THC, the principle cannabinoid of marijuana. Epidiolex, on the other hand, is derived from real weed.
London-based developer GW Pharmaceuticals has said that it would meet with the Food and Drug Administration to see if Epidiolex could be approved based on this single study. If Epidiolex wins regulatory approval from the FDA, it will be the first prescription drug in the U.S. extracted from marijuana. It might also put a stop to the need for entire families, aptly called "marijuana refugees," to split up or migrate to Colorado.
Since Colorado legalized marijuana in 2012, it's not just recreational pot tourists that are flocking to the Centennial State. Over a hundred families of marijuana refugees have also arrived, uprooting their lives in the hope of repeating the early success stories of other families with epileptic children who have been successfully treated with a low-THC, high-CBD non-euphoric cannabis extract called Cannabis sativa, or "Charlotte's Web." Named for the first epileptic patient to be treated with it, as cultivated by Colorado breeders The Stanley Brothers, Charlotte's Web has gained popularity as an option for treating seizures as well as a range of other medical conditions.
Although medical marijuana is currently legal in 23 states to date, many American families with epileptic children face the same plight of the Wilson family, who famously pressured New Jersey's governor Chris Christie in 2013 into signing a medical marijuana bill in order to save save the life of their Dravet-afflicted, two-year-old daughter Vivian. The Wilson family ended up moving to Colorado anyway — even after the bill was signed — because of the strict limitations on how much marijuana they could buy each month. Also, only dry plant material was available to them, at over $500 an ounce, from state dispensaries, and not cannabidiol or CBD oils.
Another problem with the medical marijuana products currently available on the market is that, according to a study last year by researchers at Johns Hopkins University, such products rarely contain the amount of ingredients stated in their labels.
Although Epidiolex is expensive, varying from 2,500-5,000 dollars a month, it might be covered by insurance, unlike other medical marijuana products, and remains a far more viable option for American families who do not wish to upend their lives and become Colorado marijuana refugees, or run the risk of getting caught smuggling marijuana strains between state borders.