These States Are Most Likely to Legalize Weed Next
Nine contenders could soon join such civil societies as Colorado and Washington.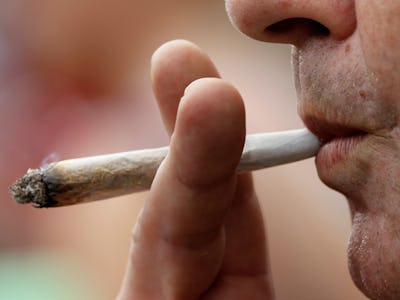 Getty Images
As residents of Colorado, Washington, Oregon, Alaska, and Washington D.C. know, marijuana legalization can be a beautiful thing. (It can also be a bit of a mess, with edible strength fluctuation, banking issues, and driving.) There's also a majority of support — 52 percent approve while 42 percent oppose — across the States. As Mason Tvert, the director of communications for the Marijuana Policy Project (MPP), tells me:
Most Americans recognize that marijuana prohibition has failed, and they're ready for a change. States around the country have proven that regulating marijuana works. Voters can see that, not only is it possible to legalize marijuana and regulate it like alcohol, it is a much more preferable system to prohibition. Within the next couple years marijuana could be legal for adults in upwards of 10 or more states, and medical marijuana will be legal in half of the states in the nation. Marijuana prohibition has been around a long time, so it's going to take a little time for voters to grow comfortable with replacing it. But it's clear what direction the country is headed.
It's important here to note the difference between medical and recreational. Medical marijuana requires a doctor's diagnosis and a special license to buy. Recreational is legalization for 21+ adults, much in the same manner as alcohol. So, who's on deck?
1. Nevada
"Nevada is the only state where an initiative to legalize and regulate marijuana like alcohol has already qualified for the 2016 ballot," Tvert says. Boom! Way to go, Nevada. First in divorces, first in divorcing yourself from reality. Soon bachelor parties in Vegas might be even hazier. They're polling at 54 percent support, too.
2. Florida
As Tvert tells it, "Florida is the state most likely to have a medical-specific initiative on the ballot." And that's for 2016, you wildass Floridians, you. A Quinnipiac poll puts support for full legalization at 55 percent. This measure would only be for medical, but could pave the way for recreational usage — as has happened in other states before.
3. California
"California is still in the drafting phase," for a recreational bill initiative, Tvert says. Fifty-four percent of 'Fornians support legalization, which is mind-boggingly low, until you remember that old people tend to move away from winters. You'd think the place that launched the Grateful Dead and spearheaded medical marijuana would be building a Green Gate Bridge out of the stuff by now.
4. Arizona
There's a petition drive underway. Who knows what people in Arizona want? It's basically like another country that wants no one from anywhere else to visit. Fifty-three percent are down, they say.
5. Maine
A drive is happening in Maine, too. As it well should be: Who wants to go on vacation in Vacationland or read a Stephen King novel without a fat blunt? Those lobster-eating fools have underwhelming polling numbers at 48 percent pro, though.
6. Massachusetts
"The Massachusetts initiative was just filed this week," Tvert says. "So that petition drive will begin soon." This poll of likely voters puts support for legalization at 53 percent. That's funny, because I took a poll when I went to college in Boston and 100 percent of people were down to get blown-out stoned. And Massachusetts is as liberal as Burning Man, even if Mitt Romney is from there.
7. Michigan
These guys are a big ol' maybe. There's some activist talk about getting enough signatures to put it on the ballot, but it's not for sure. One thing is: Detroit could use the tax dollars. (Polls show Michiganders with a 51 percent take-it-or-leave-it attitude.)
8. Missouri
Again, some rumblings of a movement. (Do these people know that the election is just over a year away? Insert stoners-are-lazy joke here.) They need signatures from 8 percent of voters in six of Missouri's eight congressional districts to get it on the ballot. And just 45 percent support is not a good look.
9. Hawaii
Hawaiians favor legalization by a staggering 66 percent, the highest of any state polled. The highest. Get it? But that doesn't mean they're going to do anything about it in the near future. Hawaii's virtually single-party-rule Democratic state legislature is a strange swirl of permanent incumbents and social conservatives. Perhaps of legitimate concern: The stuff would grow gangbusters in the tropics.
There's talk that Arkansas, Mississippi, Montana, and Wyoming could get initiatives on the ballot, too. But, there hasn't been polling in those states and, frankly, a couple of those places are still working on indoor plumbing. If I had to guess, Montana would be the first out of that bunch to get weird.
Update: Ohio has just approved an initiative for this year's ballot, and just in time to dull the pain of the lowly Cleveland Browns taking the field.