Marijuana Companies Don't Want to Be 'Cash Only'
Lawful business owners want to use banks, but financial institutions fear the consequences.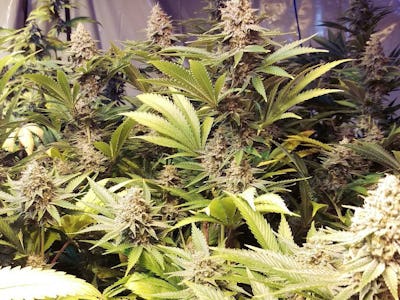 instagram.com/cheebadawg
Lawful marijuana business owners are still unable to put their proceeds in a bank, despite being taxed, AP reports from Denver Monday.
Fourth Corner Credit Union—a Colorado credit union intended to give sanctioned marijuana companies the ability to utilize the U.S. banking system—remains unable to issue credit or receive deposits, due to a prior decision by the U.S. Federal Reserve Bank of Kansas City to keep Fourth Corner from connecting with the nation's fiscal system.
U.S. District Judge R. Brooke Jackson presided over a two-hour case in Denver Monday, as Fourth Corner is suing the Federal Reserve due to its refusal to issue the credit union a master account and corresponding routing number. Without such an account, a banking institution cannot financially—and electronically—deal with other banks.
The suit is based on the argument that with the Colorado Banking Commissioner already granting Fourth Corner the necessary state charter to begin banking back in November 2014, the Federal Reserve Bank has no valid reason not to issue a master account—yet the Reserve claims there is too much risk in doing so.
It all comes down to the rules in place to keep banks from knowingly working with illegal drug money—as while marijuana is legal in Colorado, Alaska, Washington, Oregon, and the District of Columbia for recreational use—federally it's a Schedule I controlled substance, like LSD and ecstasy. The Department of the Treasury released a memorandum in February of 2014 that states that "Because federal law prohibits the distribution and sale of marijuana, financial transactions involving a marijuana-related business would generally involve funds derived from illegal activity."
In short, Colorado banks are OK to work with lawful marijuana companies, but could a bank in a state—or on the federal level—where pot is illegal face prosecution for dealing with money in any way related to the Colorado marijuana business? It's this dilemma that has left the Colorado marijuana industry a cash-only enterprise.
IRS documentation defines money laundering as "the process of disguising criminal proceeds and may include the movement of clean money through the United States with the intent to commit a crime in the future." It further specifically states that financial laws "prohibit knowingly engaging in financial transactions using funds derived from a SUA (Specified Unlawful Activity)." Among the "Lesser-included offenses in money laundering investigations" are such activities as aiding and abetting—as well as illegal money transmitting business—and to prosecute, the government must show, among other things, that a bank knew "the property involved in the transaction represented the proceeds of some form of unlawful activity."
It's because of statutes like these that the Federal Reserve has expressed apprehension.
On the other hand, the U.S. Department of the Treasury's Financial Crimes Enforcement Network issued a release in February of 2014 articulating that "financial institutions can provide services to marijuana-related businesses in a manner consistent with their obligations to know their customers and to report possible criminal activity…This would promote greater financial transparency in the marijuana industry and mitigate the dangers associated with conducting an all-cash business."
However, despite this federal memo, Judge Jackson in Denver has made it clear he has no deadline by when to decide this case—and that he also feels this would be more efficiently decided by the Congress—although the state of Colorado uses Wells Fargo bank for tax proceeds, meaning duties garnered from the sale of marijuana already knowingly go into the nation's banking system.
A statement—also released on February of 2014—from Richard Hunt, president and CEO of the Consumer Bankers Association, offered his opinion:
"First, Congress must change federal law which bans the sale and distribution of marijuana. Then all federal regulators must provide clear and precise guidance. Until then, the nation's 7,000 banks will be highly reluctant to participate in this this new type of 'commerce.'"