Here's Everything You Need to Know About North Korea's Latest Missile Launch
It's their first medium-range test since 2014.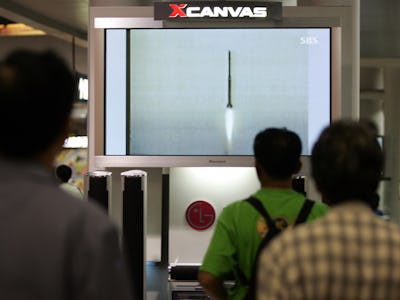 Getty Images/ Chung Sung-Jun
On Thursday night, North Korea launched a ballistic missile 500 miles east into the Sea of Japan, kicking off a flurry of international attention and concern.
According to South Korea's Yonhap Agency, sourced [here](http://www.reuters.com/article/us-northkorea-nuclear-idUSKCN0WJ30V], the missile was most likely a Rodong-1, a medium-range ballistic missile capable of carrying conventional, chemical, and nuclear warheads. The missile flew approximately 500 miles before splashing down in the Sea of Japan. If the missile was a Rodong variant, it would be North Korea's first mid-range missile test since 2014.
Some reports said North Korea fired a second missile shortly after the first, but the object disappeared from radar at an altitude of 10 miles.
North Korea has been increasingly aggressive in the past few months, rejecting U.N. Security Council sanctions placed on it after it claimed to detonate a hydrogen bomb in January — which may have had unintended effects.
The U.S. State Department acknowledged the reports of a missile launch, and said that it was "closely monitoring the situation," while re-affirming its commitments to the defense of South Korea and Japan.
Japanese Prime Minister Shinzo Abe immediately condemned the launch, lodging a protest through the Japanese embassy in Beijing, China (as the Chinese are the diplomatic proxy through which most communication to North Korea goes).
"Japan strongly demands North Korea to exercise self-restraint and will take all necessary measures, such as warning and surveillance activity, to be able to respond to any situations," Abe said to the Japanese parliament.
Last week, North Korea fired two short-range missiles into the sea off of its east coast, so the Rodong launch could be a gradual escalation of their tests. Still, missile launches and military posturing are common for North Korea when it feels threatened, and are usually harmless. The U.S. and South Korea recently held some of their largest ever military exercises, which undoubtedly put pressure on North Korean leader Kim Jong Un to respond.
North Korea is believed to have ballistic missiles capable of reaching targets as far away as Australia and Alaska, but the Rodong's range is only about 800 miles.
The Rodong is a relatively simple missile — it's essentially a scaled-up version of the common Soviet Scud missile that proliferated widely during the Cold War. Check out a 3D model of it below.