'Outsiders,' 'Impastor,' 'Dr. Ken' and More Streaming Shows You've Never Heard Of
We curated the strangest, most obscure offerings from the web and TV.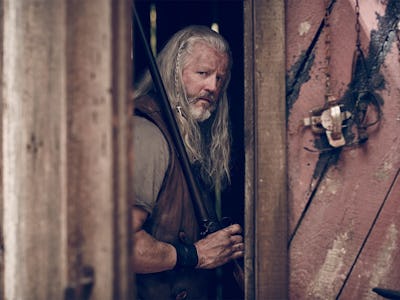 wgnamerica.com/
Between primetime, cable, and streaming services, there are hundreds of new series raging these days. Some are hyped and hip, some are outright experimental, and some are just wallpaper for profit's sake. Some great shows go under-recognized — see: Amazon's cancelled Mad Dogs, the BBC/Netflix-only River, and Inverse favorite Wicked City, for example — but many just go. They persist for as long as they can; many premium channel keep shows around for a while to get mileage out of them from latecomers.
Recap culture and word-of-internet-mouth distinguishes a huge crop of shows: the "Oh, yeah, I should give that a try" category of pretty-good, decently-to-overly-well-reviewed binge fare. But for every one of those, there are five original series that you've never come across — and that no one you know has ever seen. This is the world we live in, all quantity and "Okay, sure" quality. During a rather dreary TV season (FX is the main station still delivering; the bleak HBO lineup is particularly offensive), perhaps it's as good a time as any to highlight some of the endless shows running or streaming that you've never even heard of. Here are 11 particularly puzzling examples.
This is part of a vast repository of Hulu original programming, bubbling out there like some long-boiling, difficult-to-defrost chili mix. Some of this backlog is zeitgeist-y, or at least half-zeitgeisty (you know of Casual, even if you haven't sampled more than an occasional preview), and some of it has been virtually untouched by mankind. Resident Advisors premiered in April of last year, and is exactly what the title implies — a soapy, racy comedy about, as waitwithus.com puts it, "navigat[ing] the chaotic, sexually charged, and hormone filled world of college." It stars Jamie Chung of Real World, Once Upon a Time and The Hangover series fame. Most significant guest star: Elizabeth Banks as a "penis doctor." Ribald!
The more notable and unbelievable under-the-radar show that's airing now? A drama about snooty, crooked art dealers and collectors starring Kate Bosworth, Cary Elwes and Dennis Quaid. Crackle Original Programming, ladies and gentlemen — the Wild West of streaming TV. Hanging by a 28% thread on Rotten Tomatoes, it doesn't seem destined to be a creative breakthrough — especially for a service best known for Comedians in Cars Getting Coffee. "Quaid seems hyper-caffeinated with bluster and bravado, whereas Bosworth is restrained almost to the point of drowsy," Variety tells us. Truthfully, I could probably give anything with a "hyper-caffeinated" Quaid a try.
Amazon programming tends to catch on slowly but surely, but some falls by the wayside. Mozart and the Jungle has gained traction, with some Golden Globes thrown its way; against all odds, the Titus Welliver procedural Bosch got to three seasons and just premiered its third season.
But do you actually know anyone who watches Red Oaks? Like most Amazon shows, it's actually been quite well-reviewed. It's an 80s coming-of-age comedy, scanning something like Freaks and Geeks with a Caddyshack/Dirty Dancing-style country club mise en scene, and a sizable Paul Reiser role.
This FOX supernatural thriller premiered in January, and has performed so poorly that it received a reduced episode order, and was moved from Wednesday to Friday nights. A crooked, philandering sheriff (played, as an old man, by Philip Baker Hall, of all people) gets a new lease on life, "reborn" to correct his past misdeeds — both personal and professional — in a slightly superhuman form. Yes, it's intended as a modern Frankenstein story, and star and former True Blooder Robert Kazinsky kind of looks like Mr. Hyde in The League of Extraordinary Gentlemen. Sorry, Second Chance, there's only so much room on primetime for things like this.
Ah yes, Cinemax, the Diner's Club card of premium cable — we meet again. This to-the-max horror/thriller show about a con artist posing as a sheriff in a small town, created by author/writer Jonathan Tropper and produced by True Blood creator Alan Ball, is one of those by-the-numbers premium shows that attracts a fickle, channel-flipping audience. Banshee's fourth season (yes, somehow), which premieres April 1, is likely to be its last.
The future of Impastor, a TV Land show which aired in the summer and early fall of last year, is uncertain. The series is another con-man show, starring Smallville icon Michael Rosenbaum as a chronic gambler hiding from his crimes by playing the role of a gay pastor. It was part of TV Land's recent "rebrand" away from, you know, the Different Strokes and/or Rockford Files set, and there's no way anyone has ever seen it.
7. [Deadbeat](https://en.wikipedia.org/wiki/Deadbeat_(TV_series) (2014-)
This is one I'm pretty sure people pretend they've seen. Yeah, right. Like, you've watched "a few episodes" after it was "recommended to you" after you plowed through some You're the Worst. Sure you have. The only apparently cool thing about this middlingly reviewed "supernatural comedy" is that its third season (are you kidding me?) is premiering April 20 on Hulu. Because the main character — a "slacker medium" played by Tucker & Dale vs Evil star Tyler Labine — smokes weed. 4/20, 420, weed. Beer. Television. We soldier on.
8. [Atelier](https://en.wikipedia.org/wiki/Atelier_(TV_series) (2015-)
A collaboration between Netflix and Japanese company Fuji TV makes for a subtitled 'flix show produced in Japan — a new commodity to be sure. It went up on Netflix in December, and follows the inner workings of an "upscale lingerie company." Is this, like, Are You Being Served? crossed with The Devil Wears Prada set in Tokyo? You haven't seen it, and you probably never will, though chances are, it's pretty good. But then again, isn't almost every show these days?
Sinister, long-haired, semi-feral "white trash" renegades on quads, who have formed some kind of forest colony in the Appalachian mountains of Kentucky… These are the central harbingers of doom on this unknown WGN America show which premiered in January. The show features David Morse with long white hair, just like in True Detective Season 2, and has never been seen before. Again, very average reviews, and even more average viewership, but somehow, it was put to a second season last Friday.
Standup and Community star Ken Jeong's story of his past life as a doctor is apparently the anti-humor opus on primetime at the moment, and probably the most critically maligned show of the past year. Can you name a friend or loved one who sits down every week with the intention of watching the show Dr. Ken? Someone must be, but they're probably paid for it; this thing, which features appearances from Margaret Cho, Dave Foley and Dr. Oz, has another four episodes left in its first 22-episode season on ABC.
Sean Bean moves in mysterious ways, and may regret getting axed from GoT after Season 1. This 6-part series — another Frankenstein thing! — aired in the UK in November and December, and will soon premiere on A&E in the states. It features the veteran actor as a 19th-century "river detective" investigating a grass-roots reanimation conspiracy in London's underbelly. People show up playing Mary Shelley and William Blake! Sounds silly as hell, but yes, it definitely exists.