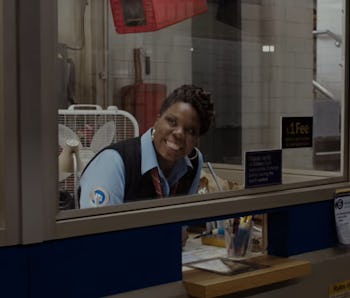 Entertainment
Leslie Jones Responds to Claims 'Ghostbusters' Role Is Stereotypical
'Ghostbusters'
A lot of people had a lot to say about the official Ghostbusters trailer which came out a mere two days ago. Some thought it was too serious, others were speculating that Kate McKinnon's character might be crushing on Kristen Wiig, and on Twitter, the word was that Leslie Jones — the only non-caucasian and non-scientist Ghostbuster — was playing a limiting stereotype as an MTA worker. The SNL comedienne responded today with both a note of praise from an actual MTA employee and words of her own.
Jezebel's Kara R. Brown was just one of the many voices asking: "Why dos the Ghostbuster's trailer say "four scientists" but then all the white ladies are scientists and Leslie Jones work for the MTA?" With plenty of others chiming in on the conversation. Jones tweeted both the note from a transit worker (below) and the definitive: "Why can't a regular person be a ghostbuster. Im confused. And why can't i be the one who plays them i am a performer. Just go see the movie!"
To be fair, Jones is the only black woman in the foursome and the least educated. "You guys are really smart about this science stuff," Jones says in the trailer, "but I know New York."
Is it enough that the Paul Feig Ghostbusters reboot features all women? Naturally, there could have been more diversity in the roles. But considering he mostly pulled from the SNL cast, we all know how controversially white and male it has been, at least until Sasheer Zamata and Jones joined the show.
While the representation of females in the science field is atrocious, the presence of minority women is shocking. With STEM programs dominating American curriculums, steps are being taken to bring females and minorities into the scientific fold. The sad truth is that once women make it, they're still sure to take a whooping from sexual harassers and plain old jerks. Maybe Ghostbusters will address these issues when it's released on July 22. Just kidding.
But with lines like "The power of Patty compels you!" which Jones yells as she slaps a ghost out of Melissa McCarthy, it seems like this might be a breakout role for the 48-year-old who looks damn good!
Here are her tweets on the subject:
The tweets from the MTA worker who contacted Jones combine to made this letter:
"Hey Leslie, thanks for being you. A question was asked by a news writer about your role on your new movie black actresses. This was my response: I work for the MTA in that role as a Token Boof Clerk and I was happy to see my job, something which provides me with plenty of jokes, a great perspective on society, and a birds eye view of horrible shit that I witness everyday on screen.
"(I wished Leslie would have hooked me up…a joke) however, the fact that my position as a clerk is the most abused by society, I feel this may give us a semblance of humanness. That's what I attempted in my one woman show "Swipe This! My Life in Transit That glass in the boof have folk thinking I'm invisible, that I'm not a college graduate, and a producer, comedian, writer, actor, etc. I'm a verb. I'm not a college graduate, and a producer, comedian, writer, actor, etc. I'm a verb. I'm not a miserable, neck-rolling, stereotype in civil service
"I love my job and I enjoy engaging people with information infused with humor. Leslie is a comedian. She's a larger than life personality and it's the first thing we see no matter what role she gets. As she grows, she will be able to tap into all her greatness. I am supporting this movie because I see me. I hope you receive all that's for you. You looked so cute in the uniform. Congrats Sis."