It's the First-Ever Women in Science Day
What's one day gonna do for women?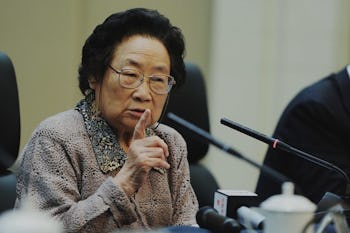 STR/AFP/Getty Images 
Today's the first-ever International Women in Science Day, created by the United Nations to recognize the integral roles women play in science and encourage more women to enter STEM fields.
"Science and gender equality are both vital for the achievement of the internationally agreed development goals, including the 2030 Agenda for Sustainable Development," announced the UN.
The UN declared February 11 as the International Day of Women and Girls in Science as part of their goal to reach "full and equal access to and participation in science" for all the ladies out there. This morning it's taken off on Twitter, with #WomeninSTEM a trending hashtag.
But really, what's a day gonna do for women?
For a long time science, technology, engineering, and math (STEM) was a boy's club, and it still is, despite efforts to get many women into these fields. Women make up 47 percent of America's workforce, according to the U.S. Bureau of Labor and Statistics. But they're less than half the chemists, only about a third of environmental scientists and geoscientists, and around 15 percent of chemical and civil engineers.
Women make about 84 percent of what men earn, according to Pew Research. (Just a note — women computer scientists, who make up 20 percent of the workforce, get paid the same as men because computers don't give a damn about gender).
It's not just about numbers though, because even if they were fine, there'd still be casual sexism and people like this guy:
To commemorate this day, the Royal Academy of Science International Trust (RASIT) and DESA-DSPD will host a High-Level Forum at the United Nations Headquarters today. You can download the program and watch the webcast live.
Oh, and another reason for this day?