Why a Predicted $140 Million Opening Weekend Is Bad for 'Batman v Superman'
Projections for Warner Bros. opening to the Justice League universe is looking high, but maybe not high enough.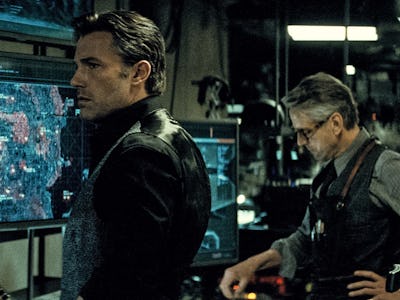 Warner Bros.
Warner Bros. is depending on Batman v Superman: Dawn of Justice, perhaps too much. The studio hopes the movie starring two of pop culture's biggest superheroes going head-to-head launches an ongoing franchise to rival Disney/Marvel and pretty much the world. Early projections of Dawn of Justice's opening weekend gross is at $140 million in North America (via The Hollywood Reporter) which would be stellar for any movie. But Batman v Superman is not any movie.
Batman v Superman, releasing March 25, has a lot of chores: It has to reintroduce Batman. It has to fix Superman. It has to pull off Wonder Woman, an icon making her screen debut. It has to make sense. It has to explain, um, this thing. Most of all, it has to launch the Justice League movies, where dozens of other superheroes are to exist. That's a crazy amount of concepts for a single movie to introduce.
The Hollywood Reporter is reporting a predicted $140 million for Batman v Superman, but their insider sources are being more conservative at $110 million. Either figure are strong domestic grosses, and if Batman v Superman manages $140 million it would be within the top 20 biggest opening weekends of all time. But costing Warner Bros. $250 million, Dawn of Justice would actually be a flop, just above earning half its price tag.
Working to its benefit is the film's uncommon worldwide opening that includes China, the largest overseas market, which could only add to the predicted North American revenue. Unlike Star Wars which China was culturally unfamiliar with, Batman and Superman have topped the country's box offices before, and DC superheroes are better known there than Luke Skywalker and Darth Vader.
Also, for U.S. audiences, Dawn of Justice is rated PG-13, meaning children and teens can get tickets unlike Fox's R-rated Deadpool, whose success I personally hope is more of an anomaly than the new industry norm.
But the film's gloomy and gritty tone has turned off a lot of people, and however hyperviolent Deadpool was, it was funny and light. Its strong domestic performance indicates moviegoers have changed their tastes since Marvel began dominating with Saturday morning-style tentpoles, while Batman v Superman seems intent to dwell in the era of dark superheroes that's become passé.
Even if Dawn of Justice meets expectations and makes $140 million in North America and makes that again overseas (which is likely), the film will have a profit margin of $40 million. Profit is profit and that would make Dawn of Justice successful, but no matter how many superheroes they stuff in this thing, it may not be super enough to save it.
Batman v Superman: Dawn of Justice releases March 25.