Scott Kelly's Return Date Is Today: Here Are 10 Things He Should Do
After a year in space, here's what the astronaut should do first.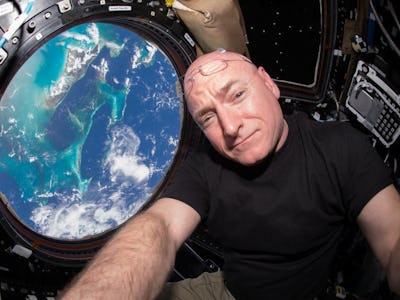 NASA
The very long, almost-nearly year in space is about to be over for astronaut Scott Kelly. Officially the American with the most culmulative days in space, Kelly is scheduled to land today (11:27 p.m. Eastern time) in the Kazakhstan desert.
It'll be the end of a 340-day mission, and when he's not busy undergoing NASA tests, he'll have almost a year's-worth of Earthly things to catch up on. Kelly isn't completely behind — from the International Space Station he's got to check out Microsoft's HoloLens, Star Wars: The Force Awakens, and is up on the hottest memes — but there are things you can't do on a space station. It's worth noting that even if you haven't been on a space station for the much of the past year, these activities also might be worth doing.
1. Scott Kelly needs to check out some art.
Kelly spent a good portion of his time in the ISS Instagramming and tweeting out pictures of what he described as #EarthArt. The man clearly has an eye for abstract beauty and an appreciation for color.
The new site of the Whitney Museum of American Art opened in New York City May 1 — about a month after Kelly left for space. He should start here on his art tour — its collection of modern America art will likely resonate with his taste. The museum's current exhibition, "Astro Noise" by filmmaker Laura Poitras might strike Kelly's interest as well — named for the thermal radiation left over from the Big Bang, it explores the issues of mass surveillance and the U.S. drone program.
In May, he'll have to head to San Francisco and check out the SFMOMA. When it opens, it will be the largest modern art museum in the United States and home to the country's biggest Center for Photography — perfect for a budding photographer like Kelly.
2. Travel to naturally beautiful places.
Kelly has already expressed how much he likes the Bahamas and how he wants to visit Egypt for the first time. But as Kelly has said that his time in space has caused him to become more of an environmentalist, he may want to check out some incredible reserves first.
Immediately after he left, the Pitcairn Islands became the site of the world's largest contiguous ocean reserve. Larger than the state of California, the South Pacific site is home to extensive marine life and crazy blue water — which we know is a favorite of Kelly's. Also the setting for some of the last pristine coral reefs on Earth, Kelly could also send a key environmental message by visiting.
2016 also marks the centennial of the National Park Service — a perfect excuse for Kelly to honor the American institution with a trip to possibly the most wild park, the Aniakchak National Monument and Preserve. Kelly photographed volcanoes from above — now he can visit some firsthand. The Alaskan park is home to the volcanically active "Ring of Fire."
3. Drive a Tesla Model X.
A former test pilot for the Navy, Kelly no doubt wants to get behind the wheels of something fast. The estimated delivery time for a new Tesla Model X — described by Tesla as the fastest sport utility vehicle "in history" — isn't until the later half of 2016, but you've got to think Elon Musk will let Kelly have a spin on the company dime. The Model X is supposed to go from zero to 60 miles per hour in 3.2 seconds and has seating for up to seven adults — perfect for when Kelly wants to drive his friends to Galveston, Texas for Mardi Gras.
4. Ride a hoverboard.
It feels a little sketchy to recommend a machine notorious for blowing up to Kelly, but they definitely dominated the later part of 2015 going into 2016. A skilled driver with a somewhat-muted silly side, Kelly would be remiss if he didn't try the electric skateboards at least one. Maybe he and astronaut brother Mark could even work out some sort of twins-focused routine.
5. Eat at El Celler de Can Roca
This Catalonian eatery in Girona, Spain was ranked the number one restaurant in the world for 2015. Run by three brothers, the atmosphere of the restaurant is supposed to conjure the essences of "art, science, and dialogue" — pretty damn fitting for an astronaut with an astronaut twin brother. Kelly is also pretty sick of just eating tortilla sandwiches.
6. See Hamilton
While Kelly may not be the biggest Broadway fan, he should still go to the "water-shed musical" Hamilton. Based on the life of Founding Father Alexander Hamilton, it's a fitting American story for a new American icon like Kelly. Tickets are sold out seemingly forever, but Hamilton-fan President Obama could probably hook him up with some tickets.
7. Mess around with a drone.
Sure, Kelly is used to flying fighter jets and spacecrafts — but he may want to jump on the drone-craze and fly a hobby drone as well in his return to somewhat civilian life. Inverse recommends the Phantom 3 Professional — Kelly seems like he would like its dope video camera and ability to take 12 megapixel photos.
8. Visit the new Apple campus.
While Apple is slowly lifting the veil on its new 176-acre, spaceship-designed campus, there is still enough secrecy around it that it would be pretty cool for Kelly to visit. Planned to be wider than the Pentagon, Kelly can check out the new office's "secret design lab" and chat with Apple's senior arborist about his own agricultural experiments.
9. Play No Man's Sky
When Kelly misses exploring space IRL, he can play the to-be-released game No Man's Sky. The much-hyped game uses mathematical equations to create seemingly infinite universes — even its creators say that they don't know what players will find in the potential 18 quintillion worlds users can explore. The point of the game is to move from the outer galaxy to its center, exploring planets along the way. A little less cool than living on the ISS — but an acceptable alternative for someone who doesn't expect to go back to space.
10. Go to the Super Bowl.
Kelly seemed pretty bummed that he missed the Super Bowl in 2016 so it would be remiss if attending next year's game wasn't planned into his return schedule.
He would have even served nachos if anyone attended his party this year! Oh well, he's going to party hard in Houston come 2017.
Welcome back, Scott!