Scott Kelly Starts Countdown to the End of His Epic Year in Space
He's enjoying every minute.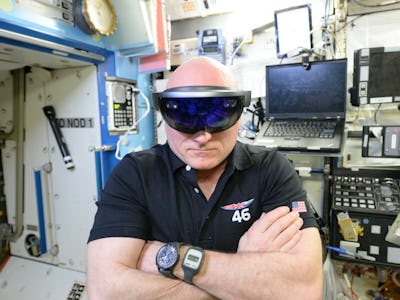 Scott Kelly; Twitter
NASA astronaut Scott Kelly's last countdown was in March, 2015. He was sitting above a Soyuz rocket about to launch to the International Space Station (ISS) for an epic, yearlong mission in space.
Now, he's started counting down the days to the end of the 340-day mission (so not quite a year in space), hitting single digits for the first time on Monday — only 9 days left.
Kelly and Russian cosmonaut Mikhail Korniyenko arrived together last March and will return together to Earth in little more than a week.
The year-long endeavor has seen Kelly accomplishing a number of important missions, including growing the first space flower and playing ping pong with water molecules in zero-gravity. However, Kelly won't be able to complete his final objectives until he is safely back on Earth.
As the American who has spent the most consecutive days in space, Kelly is uniquely suited to provide data to NASA on how humans age over the longterm in space. Even better, Kelly's identical twin, Mark Kelly, will provide a good control variable, even if they are the only twins or siblings to both have gone into space.
All this time, Kelly has been updating us with his #YearInSpace count, and we just watched as his number ticked up, breaking one record after another. We're not sure we ever really expected to see it start counting down again.
Kelly appears to be making the best of the bittersweet end of his mission, taking time out of his preparation for his first ever virtual reality gaming session with his friend, British astronaut Tim Peake.
Kelly's final news conference from orbit will air live on NASA TV at 12:05 p.m. Eastern on Thursday. And on Tuesday, March 1, he will land in Kazakhstan at 11:27 p.m. Eastern time (10:27 a.m. local time). Kelly will return to Houston's Ellington Field on Wednesday, March 2. Kelly will hold the record among American astronauts for most time in space, with 520 days over the course of his missions.
It's just about time he came back to us here on Earth. We're sure his family is eager to see him.