Maisie Williams Won't Return for 'Doctor Who' Season 10
Ashildr, now known as Me, will stay away from middling in the Doctor's affairs next season.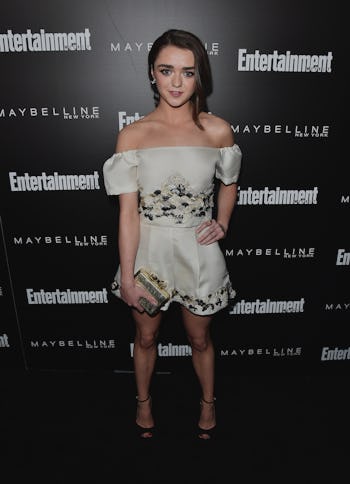 Getty
Maisie Williams had a great run last season on Doctor Who as Ashildr, a Viking girl who later became immortal as Lady Me before simply going by just Me. Because her ending was left wide open — running away with Jenna Coleman's Clara Oswald in a TARDIS mocked up like a '50s American diner — some fans expect her to return for Season 10 of Doctor Who in late 2017. But that's not happening.
As reported by Vulture and NME, the Game of Thrones star ruled out a return to the BBC's long-running sci-fi series due to new projects she's taking on.
"Everyone's hyping about it, which is very exciting, but I guess that's more of a publicity thing," she said. "But no, I'm not going to return, I have a lot of other really exciting projects lined up instead."
Williams is quite a busy actress now thanks to her star power from HBO's Game of Thrones. Last year, Williams starred in the mystery drama The Falling, which got a solid 78 percent on Rotten Tomatoes, and now has two films in post-production: The Devil and the Deep Blue Sea where she co-stars with Jason Sudeikis, Jessica Biel, Orlando Jones, and Paul Reiser, and Arrivals co-starring Asa Butterfield.
But while she won't be back in Doctor Who anytime soon, Williams will definitely return to Game of Thrones, which premieres April 24 for its sixth season. The teaser trailer really was a teaser, a really mean one that's straight up messing with everyone. Does Arya die? Maybe! Ugh.