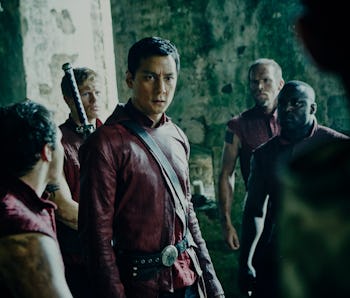 Entertainment
'Into the Badlands' Helped AMC Top Ratings. So Where's Season 2?
AMC surpassed its own expectations thanks to some karate kicks, but it's silence as to whether or not there will be any more.
AMC
After Mad Men, it seemed as if AMC's days as a powerhouse were behind it. Though The Walking Dead, spin-off Fear the Walking Dead, and Breaking Bad prequel Better Call Saul would ensure AMC would stay afloat, it wasn't unreasonable to wonder if the network could produce another great, original series. According to Deadline, AMC topped its fourth-quarter earnings thanks in part to the original marital arts western Into the Badlands.
Although The Walking Dead is a juggernaut and Into the Badlands' ratings dipped after the former went on hiatus, Badlands still garnered some 3.6 million viewers in its finale. That's a strong performance considering The Walking Dead stopped being a lead-in the previous month.
All of this is to say: Into the Badlands is a wholly original show (it takes extreme liberties with the Chinese novel Journey to the West) with a very strong and sizable audience, all of whom are asking where the heck Season 2 is. Neither AMC nor any of the producers have confirmed a Season 2, but with AMC celebrating these numbers and revenue, perhaps this is the sign everyone is looking for.
Into the Badlands wasn't a critical hit — it's got a limp 53 percent on Rotten Tomatoes — but if critical praise were all what kept a show going, then Firefly would be in its 13th season and The Big Bang Theory would have been forgotten by now. I had some problems with Into the Badlands, but I'm intrigued by its story and hope it continues with a second season. The show has real potential to be something truly special.
If nothing else, it's got the best action anywhere on TV. Eat it, Game of Thrones and Arrow.