Google Working on a Virtual Reality Headset That Will Be Completely Stand-Alone
No PC, no phone required!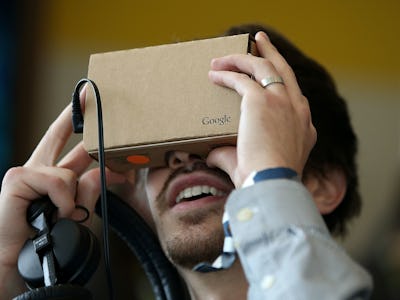 Getty Images
Google is working on what may be the most ambitious headset for virtual and augmented reality yet: A stand-alone device that wouldn't need to be plugged into a computer or use your smart phone.
Alphabet, Inc., Google's parent company, is quickly developing a headset that functions independently of smartphones or PCs, a first in the increasingly saturated market, reports The Wall Street Journal.
In addition to the higher-end entertainment console, Alphabet is also looking to release an upgraded version of its $20 cardboard VR glasses that have sold over 5 million units since they went on sale a year and a half ago. This new headset won't be cardboard, but plastic, and will incorporate some computing and sensing capabilities.
The announcement that Google is developing an independent higher-end console will likely disturb the early adopters of the technology, including Facebook's Oculus Rift and Samsung, which have made releasing headsets tethered to either smartphones or PCs their central strategies in what is becoming the world's first virtual reality war.
Google's headset will be all-in-one. Reports suggest the headset will have a screen, on-board processors, outward facing cameras, and use chips from the startup Modivius to track head movements without relying on any outside device.
One of the major questions about the new headset will have to be price, and for now it's not clear on what tier Google is hoping to compete. The all-in-one capabilities suggest a more expensive headset than Samsung's $100 version that began shipping at the end of last year, as that device relied on the company's smartphones to function. On the other end of the spectrum is the Oculus Rift that will retail for about $600 when it goes on sale next month, though even this device will rely on a high-end computer that could cost at least an additional $1,000.
Google will have to learn from the unspectacular experience of Google Glass to ensure a balance of price and features in the new headset. Google Glass not only looked a little silly, but also it didn't offer enough capability to appeal to anyone outside the very wealth for whom $1,500 was a drop in the bucket.
Google is entering uncharted waters with its all-in-one proposal. And the virtual reality field is so new that there are several other unknowns that could change everything about the industry in a moment. The most prominent of these unknowns right now is Apple, which is also developing a secret VR/AR headset, and very little is known about the device. It may require an iPhone or MacBook, or maybe Tim Cook is banking on Apple enthusiasts' willingness to shell out big bucks for an entirely new device.
The initial report indicates that Google has not committed to even releasing the all-in-one headset, though it may do so soon enough to permit a 2016 release date. The cardboard headset that will actually be made out of plastic may debut as early as May, though the price bump required to add processors may make the new device less attractive than the original, unless the functionality increases dramatically.
All the major tech firms seem to be betting big on virtual and augmented reality as the future of computing. Hopefully, this means that one of them will hit on the perfect formula that makes the technology affordable and awesome at the same time. One thing is for sure, though, if Google decides to throw its headset into the mix: It will do things you wouldn't even imagine.