Virtual Reality Can Do More Than Amuse You
Let's focus on how virtual reality can help people.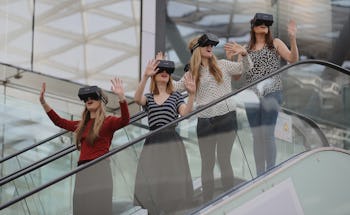 Tim P. Whiby/Getty Images
At tech conferences, emerging startups compete to get you to their booth with the promise of swag. Beer koozies, stress balls, branded sunglasses — an arsenal of items that you can throw in your bag and forget later. But, at one booth at Techweek New York, a crowd congregates to get their hands on something else: virtual reality headsets. Eager conference goers surrounded the table of River Studios, which calls itself the first comprehensive virtual reality studio. They make the content; you enjoy the ride.
One man tentatively approaches the booth asking, "Is this going to make me sick?" After slipping on his Samsung Gear VR, a video produced by River Studios begins. In it, a rad female race-driver shows the viewer her car, then speeds around a track.
"Oh wow," the man says, reaching his hands into the empty space in front of him where he sees the dashboard of the car. "This is incredible."
Much was made about the possibilities of virtual reality at Techweek New York when it came to entertainment possibilities. The idea that you could stand on the stage with your favorite band, or run through a war zone in an immersive video game is mega-tantalizing to investors looking for the next big market.
"Millennials in particular are going to want this," said River Studios general manager Sivan Iram during his panel talk. "If you want to know how a $10,000 vacation you're paying for is going to look like, you actually can go there before you pay so you know you're making the right choice. For live events — imagine being on the fifty yard line."
The increasing availability of virtual reality for the average consumer is exciting. Samsung lowered the cost of their headset at the end of September to $99, while you can get Google Cardboard for a mere $23.95. But entertainment is just one market for VR — with decreasing prices, VR has a very real possibility of becoming a widespread health tool that can help cure phobias, relieve anxiety, and act as a treatment for post-traumatic stress among other ailments.
Psychologists have been attempting to use virtual reality as a tool for their patients since 1992, but recent technological advancements have caused the elements of realism to go up and the costs to go down. While Facebook's much talked about Oculus won't be able for mass consumption until 2016, engineers are already figuring out how to make it a tool for psychologists. For their senior design project, two Santa Clara University student engineers developed a simulation tool that will allow therapists to guide their patients in a controlled world filled with their phobias. If a patient is terrified of heights, they can be placed on the top of a roof with a 360-degree view. It's a chance to face fears, with the convenience of not actually going there.
One particular market ripe for VR consumption is medical trainees. The Center for Computer Games & Virtual Worlds at the University of California, Irvine says that recent advancements in virtual worlds have created the possibility of highly realistic role-playing for doctors in training, tele-consultations between doctors and patients, and robotic surgery.
Earlier this year, at the Immersive 2015 conference, the director of content development at WEVR, a VR media player and community for VR content creators, told a story about when he saw a quadriplegic man try a VR headset. In that experience he was got to swim around a sunken ship, past a diving whale. "The experience," writes Kevin Carbotte of Tom's Hardware, "was so moving to him that he came out of the headset in tears."
Here's a video (albeit with poor audio) of the young man talking about his experience. He talks about the possibility of the VR, wondering if it could give him the experience of biking through the countryside. "Unfortunately, I'm never going to be able to do that," he says, "This will finally let me be able to feel something like that."
It's exciting to see so many people at Techweek talk about the growing possibilities of VR and how it will revolutionize how we consume media. Here's hoping that the startups looking for seed money (and larger tech players searching for the next big thing) will explore the health and social benefits of virtual reality. (And its possibility for fun, of course.)