Oculus Rift Pre-Order Cost, Where to Order, How to Order, Still Unknown
It will likely be between $350 and $1,000.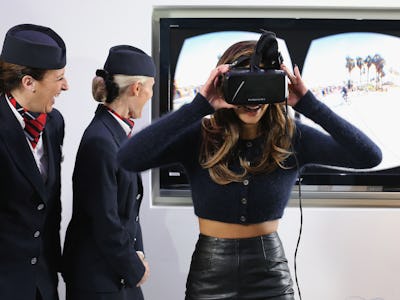 Getty Images
Because we're living in the era in which trailers get trailers, here's a teaser for a preorder: Oculus announced today that its Rift head-mounted display will go on sale at 11 a.m. Eastern on Wednesday, but its price hasn't been announced.
Two days before preorders launch, Oculus is still being cagey about the cost, but expect somewhere above $350 and less than $1,000 for the headset, and in the ballpark for a $1,000 computer, at minimum, to run it. But think of all the other people who will be jealous of this shiny new tech, as Oculus founder Palmer Luckey likes to point out on Twitter:
On Reddit on Monday, Luckey defended keeping the cost a secret:
"This is standard practice in the consumer electronics industry," he writes. "The price is almost always announced alongside preorders. Phones, game consoles, they all do it this way — it is kind of weird to see people thinking it is some kind of special sign about anything!"
The company isn't sharing much in the way of details yet, but promises to do so this week, which is sort of annoying: "We'll be sharing everything you need to know to order your Rift on Wednesday when pre-orders go live."
Also on Monday, Luckey announced that the pre-orders will be "global," with the caveat that Oculus only has the "required certification" to sell its headset in 20 countries, with more to follow:
So when can people expect to receive their headsets? Mashable writer Chelsea Stark speculates it could be within two to four weeks after pre-order, based on comments by Oculus vice president Nate Mitchell, who referenced the Apple product roll-out as the model for consumer tech companies.
Preordered Rifts will come bundled with fox-hopping platformer Lucky's Tale and spacefaring/lasering sim EVE: Valkyrie. You'll get an Xbox controller in the package, but will have to wait until the second half of 2016 to purchase the Oculus Touch controller.
Speaking of, if hurling questions/memes/praise at tech dudes is your jam, Luckey will be AMA'ing it up on Reddit Wednesday at 6 p.m. Pacific. It's not the first time he's held an open question-and-answer session on Reddit; he also did it in 2012.