Beyonce Uses Super Bowl Eve to Drop Powerful "Formation" Video
"Y'all haters are corny with that Illuminati mess."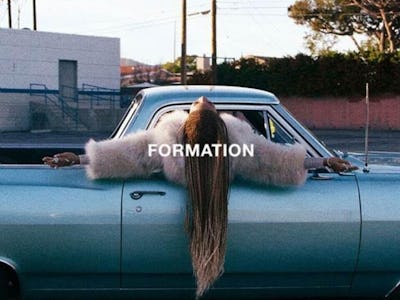 Beyonce
Unlike David Bowie, who once turned down a Coldplay collabo, Beyonce decided she wasn't above sharing the mic with the easy listening Brits during tomorrow's Super Bowl 50 half-time show. So on the eve of that intoxicatingly violent television extravaganza, Bey decided to drop a video for a new song, "Formation (Dirty)," which is not filthy but way heavy. It seems the singer is using her time in this extra massive football-generated spotlight — during Black History Month — to bring attention to the Black Lives Matter movement and Hurricane Katrina disaster to a wider audience.
"Y'all haters are corny with that Illuminati mess," Beyonce's chorus repeats. The video is an homage to black New Orleans over the years. In an ankle-length dress, Bey moves about on top of a cop car half submerged in murky water with rooftops peeking up behind her. She's locked in time, in the Hurricane Katrina disaster, waiting to be saved, but drowning by the end of the video.
A tiny dancer in a black hoodie moves like mercury in front of a line of riot control officers. The boy raises his hands in a "V," and the cops follow suit. Is it for victory or is it simply a surrender? The camera pans across the words: "Stop Shooting Us" scrawled on a wall. Next, Bey is laying on the police car, arms spread wide. Also important to note, yesterday would have been the 21st birthday of Trayvon Martin, the unarmed boy wearing a hoodie the night he was killed.
The video is about hope too. "You just might be a black Bill Gates in the making," Beyonce mixes into her repeated "I slay" mantra. Beyonce intends to inspire, not just illuminate. (Also, please note that your mom will be saying "that slays" for everything by tomorrow afternoon.)
The Super Bowl halftime show has plenty of eyes and ears on it given that it's a no-joke, pop-heavy affair. Bruno Mars is also performing and Lady Gaga is singing the National Anthem. People are saying Rihanna and Justin Timberlake may join in too. (We just hope JT leaves his hands off all bras tomorrow.) This all means the crowd is diverse as hell and all sorts of people will be watching to see what Beyonce is going to do, thus giving her an excellent platform to display her agenda.
Produced by Mike Will Made It with a Big Freedia sample, this is the first song Beyonce has put out since 2013's Beyonce album. The video came with a free download on Tidal and — you know, being one of the finest business women in the land — you can pick up song-significant merch like an "I got hot sauce in my bag" tote or a "Smack It" hat.