Is Beyoncé Going to Pull Another Beyoncé and Drop a New Album?
It's been nearly three years since she shocked the world. She's poised to do it again.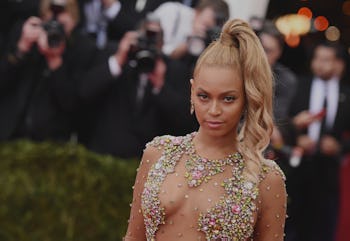 Mike Coppola/Getty Images
On December 14, 2013, most of the world woke up to the news that Beyoncé had somehow released an album in the middle of the night before. There was not a single peep from the cavalcade of collaborators that anything was being worked on or readied for release. Since then, "Beyoncé" has become a de facto verb, often misused to indicate that an artist has dropped a project out of nowhere. (Pro tip: Drake Beyoncé'd when he dropped If You're Reading This It's Too Late. Kendrick Lamar did not Beyoncé when he put vague album info on iTunes, indicating something was on the way — that's just a 2015 album rollout.) Since Beyoncé gave no forewarning before she pulled a Her in 2013, who's to say she can't do it again?
Let's remember what Beyoncé was doing before she released Beyoncé. Her last album, at the time, was 2011's 4, a more mature effort that, of course, topped the charts (because she's Beyoncé), but did not have quite the same across-the-board pop culture impact as 2008's I Am… Sasha Fierce. "Countdown" is a vocal masterpiece, but made it to just number 71 on the Billboard Hot 100. Sasha Fierce, in contrast, had "If I Were a Boy," "Halo," and most notably, "Single Ladies (Put a Ring on It)," all three of which made Billboard's top five. "Single Ladies," in particular, took on a life of its own, becoming a historically inescapable jam. Justin Timberlake, Andy Samberg, and Bobby Moynihan's Saturday Night Live parody of the music video's iconic dance is perhaps even more notable than the original.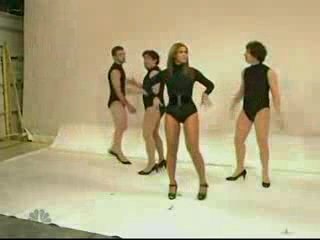 By 2013, though, "Single Ladies" was a distant memory. Beyoncé, in the time since, had become something more than a pop star/ex-Child of Destiny. 2013 Beyoncé was a mother and, arguably, the more powerful member of her Carter marriage with Jay Z. She and Jay were friends with the Obamas. She could've gone off the musical map for an extended hiatus and still maintained superstardom. 4's painting of Beyoncé as a Serious Artist had no small part in her ascendance to goddess status.
But more specifically, Beyoncé was on tour when Beyoncé shocked the world. The Mrs. Carter Show World Tour began in April 2013 (well before Beyoncé arrived) and concluded in March 2014 (several months after Beyoncé was out). Beyond how notable the tour name was — painting Beyoncé as a proud married woman, happy to take her husband's name, yet still continue conquering the world on her own, rather than hide behind her husband's accomplishments — Beyoncé had shows the night of the album drop, as well as the day after. The pokerface she must've held in front of 14,000 people at Chicago's United Center hours before she shocked the world is unfathomable.
The tour is important, though, because it indicates that Beyoncé was on the road while her album was still in the works. Playing shows did not stop her creative process. Following 2014's On the Run Tour with Jay Z, Beyoncé has limited her live shows to special appearances (like playing Jay's Made in America Festival or showing up at the philanthropically-minded Global Citizen Festival). She also doesn't have a busy 2016 lined up, outside of playing the Super Bowl.
Given the circumstances surrounding 2013's Beyoncé, it seems like Bey would have an even easier time releasing an album now. But would she even want to surprise the world again? Beyoncé was a statement. It had hits — "Drunk in Love" first and foremost — but also dealt with mature themes like motherhood ("XO") and feminism ("Flawless"), and, musically, was more than just a pop album ("Haunted" and plenty more). Combined with its video album packaging, Beyoncé could not be delivered in any way but as a single entity. She's now earned her right to slowly ease back into people's iPods. Maybe there's a radio single, followed by a for-the-critics R&B slow jam. Beyoncé does not need to rush.
Having pulled the original Beyoncé, Beyoncé really should not do it again. It could potentially undermine the original's impact, plus it would live forever in its shadow. But it's not out of the question. She's got some downtime (outside of that whole "raising a daughter and maintaining a family" thing), so recording is certainly a possibility.
Just keep watch in 2016. Enough time has passed. For better or worse, Beyoncé may strike again.