Adam Driver's 'Saturday Night Live' Appearance Proves That He Has Arrived
Mask on (Kylo Ren) or mask off, Driver's star is rising fast.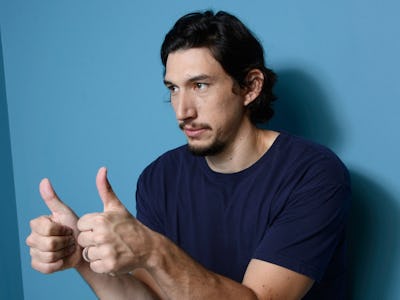 For obvious reasons, including your badass nephew's badass lunchbox, Kylo Ren will go down as one of the most talked-about creations of 2015. But what about the man under the angsty man-boy under the mask?
Be it in a galaxy far, far away or peeing on Lena Dunham's leg in the shower on HBO's Girls, we can't argue that Driver has not penetrated the zeitgeist in a seemingly permanent way. Hailing from Juilliard, Driver's film performances thus far have mostly been of the indie variety, with small parts in the likes of J. Edgar, Inside Llewyn Davis, and Frances Ha.
While his role in Star Wars portends big things for Driver — he'll star in Jeff Nichols Midnight Special, and later work with Martin Scorsese for Silence — he first had to contend with Saturday Night Live. If his SNL performance is anything to go by, he's a lock to be a star.
This past week's SNL performance was a sample platter of Driver weirdness with something for all palettes. If it was a middling episode in other ways — with the GOP debates having gotten so cartoonish that their parodies require exhaustingly wide swings to even register — Driver certainly stood out in his ability to calibrate to a broad set of premises, and wigs, without losing that "thing" that keeps us watching every time. Just when you thought his face was contorting into a new awkwardly seething frown, you realized he was actually just smiling or inhaling to scream his lungs out in pretend free fall from Aladdin's magic carpet. Such is the Driver spectrum.
And hey, if Jim Halpert can turn in a believable performance as a bench-pressing Benghazi soldier in 13 Hours, we're confident that Adam Driver can continue to deliver alternatively scalding hot/bitingly cold characters well beyond the Star Wars universe or hipster streets of Greenpoint, Brooklyn. Weird on, you magnificent weirdo.