Jay Z's Getting Sued for a Sample on "Big Pimpin'", but He's Already Won
He's got 99 problems, but this hitch ain't one.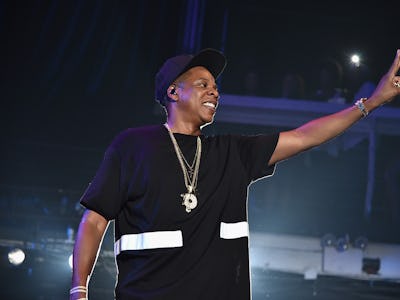 Theo Wargo/Getty Images for Live Nation
Jay Z's "Big Pimpin'" came out more than 15 years ago, but it's only going to trial over copyright violations this October, The Hollywood Reporter is reporting. The sample in question is from Baligh Hamdi's "Khosara Khosara," featured in the Egyptian film Fata ahlami.
EMI quickly claimed ownership of the sample, so Timberland (who produced "Big Pimpin'") paid $100,000 for the rights to use it. What seemed like a cut-and-dry case got reopened back in 2007 when Hamdi's nephew Osama Ahmed Fahmy sued Jay Z, Timbaland, EMI, Universal Music, Paramount Pictures, MTV, and more, claiming that the $100K agreement was invalid.
There's a lot of legalese to the case — such as whether "Khosara Khosara" is original enough to warrant copyright protection — but all of that pales in comparison to Jay Z's deep pockets. "Big Pimpin'" didn't necessarily launch Jay's career — it was on his fourth album, Vol. 3… Life and Times of S. Carter — but it is one of his most recognizable tracks and did go platinum.
At this point, it doesn't matter who wins the suit: The song's success is Jay's lasting victory. The Hamdi estate didn't come out too badly either: millions of people now know about the otherwise forgotten track. "Big Pimpin'" is a particularly high-profile case, but artists may be too concerned with who owns what, when a collaboration could be mutually beneficial. At a time when artists are more careful than ever about covering their asses to avoid suits like this, Jay showed that sometimes it's better to ask for forgiveness than permission.