Miguel Saves Himself Millions, Is Smart
How one acknowledgment can save artists from multi-million-dollar lawsuits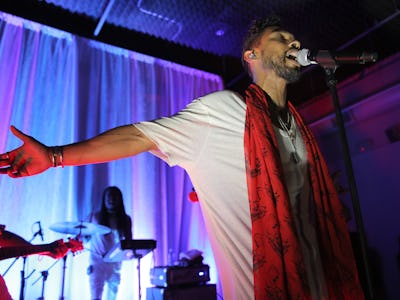 Chelsea Lauren / Stringer via Getty Images
Miguel's excellent new album, Wildheart, has its fair share of musical influences. But the Smashing Pumpkins don't sound like one of them. Still, that didn't stop Miguel from giving Pumpkins leader Billy Corgan a co-writing credit on the album's penultimate track, "leaves."
In an interview with news.com.au, Miguel admits that the track's guitar riff just came to him, "the song literally wrote itself in minutes." Miguel then realized he might have borrowed the riff from the Pumpkins' iconic "1979," so he contacted Corgan, who approved of the song and its potential borrowing.
Miguel's move is quite savvy in a post-"Blurred Lines" lawsuit world. Earlier this year, a judge ruled that Robin Thicke and Pharrell Williams copied Marvin Gaye's "Got to Give It Up" for their 2013 hit, and the two were ordered to pay $7.3 million to the Gaye family for copyright infringement.
Miguel's song owes much less to "1979" than Thicke and Williams' did to "Got to Give It Up," but Miguel sees that there is absolutely zero harm in acknowledging influence. Corgan's credit doesn't detract from "leaves" – it may even enhance it.
Miguel's "1979" interpolation also shows that a simple credit may not be enough. Anybody could take from a song and credit the original writer, but without that person's blessing, it means nothing. For example, Lord Finesse filed a $10 million lawsuit against Mac Miller back in 2012 for using his beat from "Hip 2 da Game" on "Kool Aid & Frozen Pizza," a track from the free mixtape K.I.D.S.
Miller, however, did credit Finesse and did not break any copyright laws because the track was not for sale. The two settled in 2013 with Finesse claiming Miller used the beat "in order to launch his music career." Even with proper crediting, Miller suffered by not obtaining explicit permission from the original artist.
It's possible more artists will take the same route that DJ Mustard did on "Do It to Ya" from YG's 2014 album My Krazy Life.
On "Do It to Ya," Mustard doesn't sample Tha Dogg Pound's "Let's Play House," but he recreates the piano line nearly identically. And lo and behold, Tha Dogg Pound and Nate Dogg get their deserved credit.
Copyright laws are like the Wild West of ownership. If someone feels they've been infringed upon even a little, they can sue until somebody rules in their favor. With "leaves," Miguel shows that all the nonsense can be avoided simply by owning up to your influences.