Silicon Valley Starts Poaching President Obama's White House Talent
Jobs come easy when you've helped run the free world.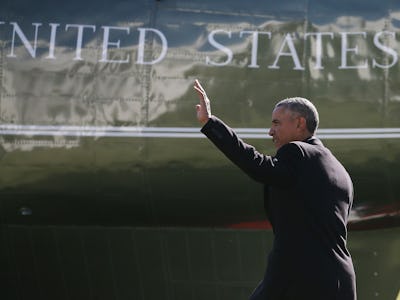 Getty Images
When President Obama entered the White House, he built a team overflowing with top officials from Silicon Valley firms. This "revolving door" was viewed as a way for the president to harness the high-tech capabilities of America's leading industry as well as a way for this same industry to play a role — some would say outsized role — in setting the policies that govern their behaviors. The cozy relationship with the most powerful person in the world was a sign of Silicon Valleys' ambitions.
Now, the door has stopped revolving.
President Obama is on his way out and so are his people — much to the delight of Silicon Valley. These are the officials who have been working not only American tech policy for the past 8 years but who are known around the world for negotiating landmark deals like the Trans-Pacific Partnership as well as dozens of bilateral treaties and agreements through the Group of 8 and Group of 20 nations. It should come as no surprise then that as Silicon Valley's ambitions continue to grow to encompass global markets, they are looking to find the Americans capable to taking them to the next level.
The most recent transition came just this week when White House economist Caroleine Atkinson announced she would be leaving Washington to become the head of Global Public Policy at Google. She will be assuming the role at a tricky time, with Google's European disputes over possible monopolistic search practices continuing to stir anger across the continent.
The poster boy for the tech sector going after political operatives remains David Plouffe, Obama's 2008 campaign director, who is now a vice president for public policy at Uber ("Change You Need an Injunction to Stop"). In his role, Plouffe has worked to expand Uber's operations at all costs, even speaking out against Uber drivers who have sought to form a union.
Jay Carney, the president's former press secretary, joined Amazon as vice president for global corporate affairs early last year, a position he was forced to defend when the company's staff management came under fire.
With Eric Schmidt, CEO of Alphabet, Inc., the parent company of Google, taking a trip to the Vatican on Friday, to speak with — recruit? — Pope Francis. Maybe Silicon Valley's ambitions are even higher than we can predict, and President Obama may find himself floating a golden parachute all the way to Palo Alto.