Pope Francis to Meet Alphabet (Google) CEO Eric Schmidt at the Vatican
His Holiness is making some corporate connects.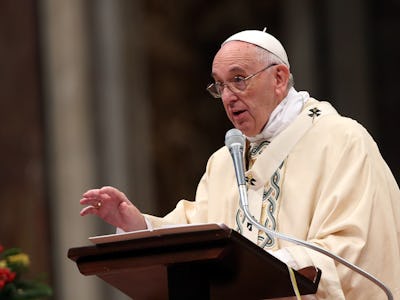 Is Pope Francis going corporate on us? We'll see whether he ditches the Popemobile, the big house and all the funny guards after he meets with the one company that could give him a better deal on Friday.
His Holiness is receiving Eric Schmidt, CEO of Google's parent company Alphabet, Inc. for 15 minutes at the Vatican on Friday. The big question is this: What are they going to talk about?
The Pope has no reverence for capitalism, but he has called the internet "a gift from God." A major clue to the theme of the discussion is the only other person invited to the meeting: Jared Cohen, a former State Department official now in charge of Google Ideas, who coauthored The New Digital Age: Reshaping the Future of People, Nations and Business with Schmidt in 2013. The book deals with how the internet can be a powerful force of liberation for the poorest people in the world, but also may reinforce a digital "caste" system by providing some access only to the wealthy.
Pope Francis has been a tireless advocate for the poor so the expansion of the internet and the fundamental structure of it is of extreme interest to him. The Pontiff does represent the interests of the church and the interests of the many millions of Catholics without internet access. In the past he has said the internet "offers immense possibilities for encounter and solidarity." The Pope may be serving in his capacity as lobbyist for the needy.
The meeting will be very brief, but it may also be the first appointment Schmidt has had to be nervous about in a while. Alphabet is a massive, wildly successful company largely beloved by users of its search engine and feared by its long roster of competitors, which is so inclusive it now features car companies. The Pope, on the other hand, is a somewhat divisive figure within the church and a not at all divisive figure outside of it. He has the ear of the world and he can, to some degree, bring any corporate interest to heel. There are roughly 1.2 billion Catholics on Earth to Google 1.17 billion users. The Vatican remains the biggest game in town.