Reminder: NSYNC's 'No Strings Attached' Was Flames
Adele's '25' surpassed the 2000 classic in first-week sales, but will never match its 🔥.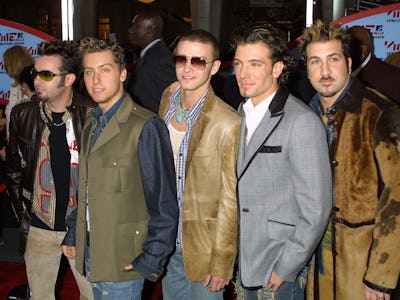 George De Sota/Getty Images
Today, Adele's 25 officially set the record for most first-week album sales in the United States. It's sold 2.433 million copies, which surpasses NSYNC's previous record of 2.416 million for their March 2000 album No Strings Attached. Here's a quick reminder on this historic day: No Strings Attached was absolute 🔥 — nothing but bangers. I'd consult my CD version, but I wore it the hell out and now it's unplayable.
NSYNC's 1997 self-titled debut had hits, but those were mostly pop ballads — like the highest-charting single "(God Must Have Spent) A Little More Time on You" and the banger-lite "I Want You Back." With No Strings Attached's lead single "Bye Bye Bye," however, the quintet proved their ability to straight light things up from the get-go. It was pop's perfect entry into the new millennium. First, it's literally saying "goodbye," so no looking back to the past 2000-plus years of history. It's also got a bass line that just screams "futuristic;" it's smooth yet obviously digitized. And the harmonies on that song are just fucking ruthless.
It doesn't stop there, though. The second track, "It's Gonna Be Me," was actually the only track from the album to top the U.S. singles charts. And you thought those "Bye Bye Bye" harmonies were good? Holy shit. Those voices fit together like pieces to a puzzle created by God.
It's one thing to have successful singles, but 'NSYNC created a sonic masterpiece with No Strings Attached. They continue that "futuristic" narrative with "Space Cowboy (Yippie-Yi-Yay)" featuring TLC's Lisa "Left Eye" Lopes. Southland Tales narrator Justin Timberlake really steals the show there with some vital space knowledge: "Don't be afraid at all / 'Cause up in outer space there's no gravity to fall." Insane.
As it continues, they throw in some signature ballads along with the ferocious string of heat. "This I Promise You," for example, stacks up with anything on NSYNC, and even the title track takes the future-funk and makes it into a proper love song. On "No Strings Attached," Southland's Timberlake, the obvious breakout star, once again finds a woman who somehow has the absolute shittiest boyfriend ever ("His eyes wander 'round"). JT's better than that: "He doesn't see you like I see you."
If you may have checked out a little as the record winds to a close — which, there's no excuse for that unless you were a 6-year-old with no attention span like me — "Bringin' da Noise" will wake you the fuck back up. It's a straightforward dance track in the vein of eurodance hits likes Technotronic's "Pump Up the Jam." As JC Chasez sings, "Just shake it, girl / And enjoy the ride." Also, the hook talks about bringing down da house, so I guess it's house music, too?
"I Thought She Knew" closes out the album with some doo-wop-adjacent vocals. "I thought she knew / My world revolved around her / My love light burns for her alone / But she couldn't see the flame." There you have it. It's a metaphor for the album and its many 🔥s. Obviously, if "she," whoever she is, cannot see the light, then the NSYNC boys have gotta move on from her — I imagine they rotate monogamously courting the same woman.
Even though there's no getting past the 1-2 of "Bye Bye Bye" and "It's Gonna Be Me," Timberlake's "SexyBack" might be the only piece of music made by an NSYNC-er that's beaten No Strings Attached's quality.
So while Adele is selling millions and shattering unthinkable boundaries — an even more incredible feat in the streaming era — with an album that spans generations, earns critical acclaim, will likely win awards, and certainly tugs at the heartstrings, remember that she's not just passing some bullshit boy band album. No Strings Attached soared above the rest and was the greatest thing those five singers ever did together. No asterisk necessary.